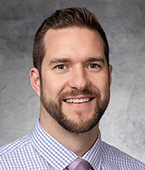 Kevin Steed, PhD
Degrees:
Ph.D. in Neuroscience, Brigham Young University
B.S. in Molecular Biology, Brigham Young University
Specialty:
Neuroscience, physiology
Most recent teaching experience:
Visiting Professor at Chamberlain University College of Nursing
Most recent publications and presentations:
King RE, Steed K, Rivera AE, Wisco JJ, Thibeault SL. Magnetic resonance imaging quantification of dehydration and rehydration in vocal fold tissue layers. PloS one. 2018;13(12):e0208763-e. doi:10.1371/journal.pone.0208763
Bridgewater LC, Mayo JL, Evanson BG, Whitt ME, Dean SA, Yates JD, Holden DN, Schmidt AD, Fox CL, Dhunghel S, Steed KS, Adam MM, Nichols CA, Loganathan SK, Barrow JR, Hancock CR. 2013. A Novel one Morphogenetic Protein 2 Mutant Mouse, nBmp2NLS(tm), Displays Impaired Intracellular Ca2+ Handling in Skeletal Muscle. Biomed Research International, 11.