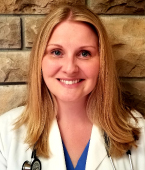 Sara Wattenbarger, DO
Degrees:
Emergency Medicine Residency, Arrowhead Regional Medical Center, Colton, CA
D.O., Midwestern University/Arizona College of Osteopathic Medicine
Post-baccalaureate Pre-Professional Health Studies, Seattle University
B.A. in Psychology, Whitman College
Specialty:
American Board of Emergency Medicine
Most recent teaching experience:
Clinical Faculty, Kaweah Delta Health Care District Emergency Medicine
Most recent publications / presentations:
Wattenbarger S, Silver A, Hoyne T, Kuntsal K, Davis D. Real-Time Cardiopulmonary Resuscitation Feedback and Targeted Training Improve Chest Compression Performance in a Cohort of International Healthcare Providers. The Journal of Emergency Medicine. 2020;58(1):93-99. doi:10.1016/j.jemermed.2019.09.027.
Davis D, Hoyne T, Wattenbarger S, Kuntsal K, Silver A. The impact of real-time chest compression feedback increases with application of the 2015 guidelines. Journal of Critical Care. 2019;54:145150. doi:10.1016/j.jcrc.2019.06.033.