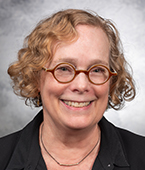 Susan Ely, PhD
Assistant Dean, Student Affairs and Enrollment
Professor
559-712-4222
COMDeans@chsu.edu
Degrees:
Ph.D in Molecular Biology & Microbiology, Tufts University Medical School
B.S. in Zoology, University of New Hampshire
Specialty:
Molecular Biology & Microbiology, Immunology, Biochemistry
Most recent teaching experience:
Professor of Molecular Biology, Immunology & Microbiology at the Department of Basic Sciences California Northstate University College of Medicine;
Director of Clinical Case-Based Learning
Most recent publications / presentations:
Ely S, Greenawald J & R Vari. 21st Century Problem-Based Learning: Rational Design or Retrofit – Either Way a Medical Education Asset [Book chapter] in Development and Impact of Training Programs and Systems in Medical Education: Eds: Ruth Gotian, Yoon Kang and Joseph Safdieh. 2019 In progress.
Ely S, LaConte L, Fogel S & R Vari. Student Perception of Patient-centered Problem-based Learning in one medical school curriculum varies with stage of training; a mid-study report. [Poster presentation] 19th Annual Meeting of the International Association of Medical Science Educators (IAMSE). 2015.