CHSU Celebrates Health Care Simulation Week 2020
September 18, 2020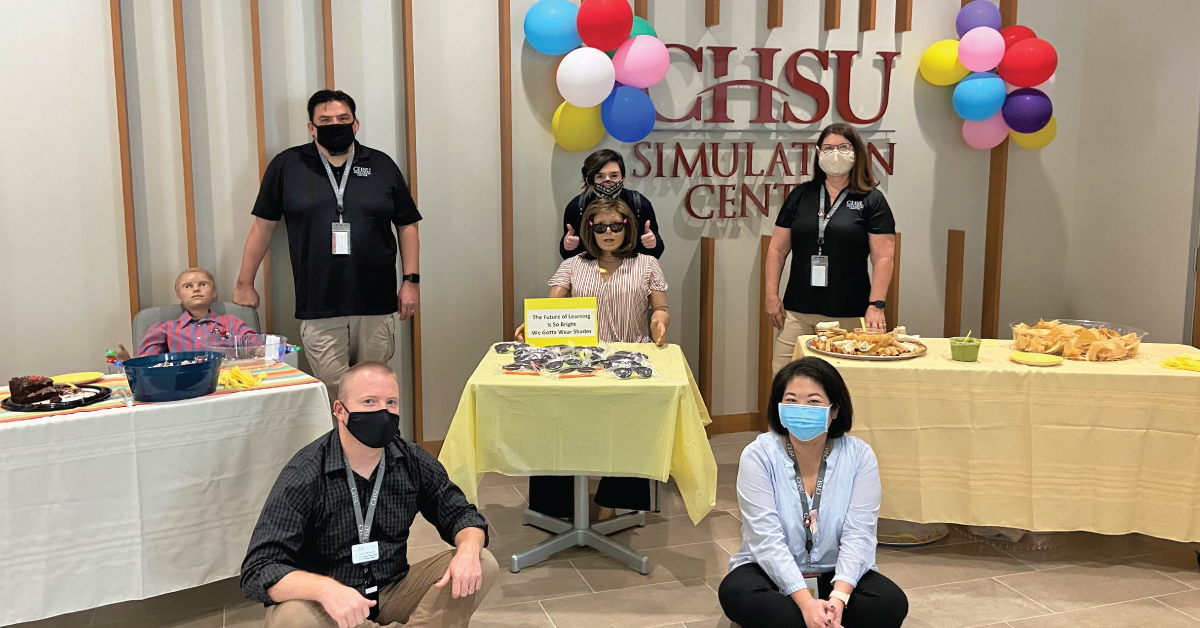 The CHSU Simulation Center celebrated Health Care Simulation Week (September 14-18, 2020) with the Society for Simulation in Healthcare and other simulation centers across the globe. Health Care Simulation Week celebrates professionals who use simulation to improve the safety, effectiveness, and efficiency of healthcare delivery.
Throughout the week, CHSU shared some of the state-of-the art technology that is housed at the CHSU Simulation Center. The CHSU family of high-fidelity manikin patient simulators were featured with their human-like qualities, like breathing, blinking, moving, talking, crying and other characteristics pertinent to the clinical simulation training.
CHSU faculty and staff had the chance to meet our manikin patient simulators including Susie, one of our adult female patient simulators and Pedro who is our pediatric simulator.
The Simulation Center also utilizes HoloLens™ Augmented Reality for studying anatomy and the Butterfly iQ Handheld Ultrasound System that CHSU medical students will use to learn bedside ultrasound techniques to better serve our underserved communities. Each CHSU medical student has both devices to aid them in their studies.
CHSU also celebrated the Standardized Patients who portray a patient role in the Clinic side of the Simulation Center, allowing medical students to practice non-intrusive physical exams, history taking, and communication skills.
CHSU is currently hiring members from the community to portray these patient roles on a part-time basis and are trained to present the medical history, simulate the physical symptoms, and portray the emotions based on a patient case. Interested individuals can learn more at chsu.edu/simulation/sp-program.
Check out the CHSU Facebook, Instagram and Twitter accounts for more about Health Care Simulation Week 2020!
---
About the CHSU Simulation Center
The CHSU Simulation Center is at the forefront of interprofessional education in the Central Valley and was meticulously planned to enhance the interactive learning needs of today's students, particularly concerning the foundations of medical and clinical wisdom. The 20,000 square foot Simulation Center is located inside the College of Osteopathic Medicine building and features an In-Patient Wing modeled to resemble the hospital environment, an Out-Patient Wing designed to resemble a clinic or doctor's office an Anatomy classroom where HoloLens™ Augmented Reality is used and a Virtual Lab with trainers and hands-on anatomy simulators. To learn more visit https://chsu.edu/simulation