Student Health and Wellness
Physical Health Services Available to Students
CHSU-COM encourages all students to establish primary care providers in the Clovis/Fresno area.
More information can be found on this webpage and through these resources:
Student Health Insurance: Students with no private health insurance are enrolled into the CHSU Health Insurance Plan. Students can sign waiver or opt out of enrollment with proof of having private insurance coverage. Students can visit HSAC Web Portal to learn more about the Student Health Insurance and Providers.
Current Students webpage
United Health Care system has a variety of healthcare professionals within its network at multiple clinical sites thought the Central Valley to meet the needs of CHSU students. The clinics provides primary care and specialists in multiple disciplines of medicine.
In addition students are able to call for non-life threatening emergencies and after hours care (24×7) through a dedicated United Health Care phone number 1 800 492 4227. United Health Care are all in-network with CHSU Student Health Insurance. Provided services are confidential. Students are responsible for all fees incurred through the utilization of these services.
For medical emergencies, students are encouraged to access appropriate care as warranted by their situation including local urgent care facilities. Emergency departments and emergency medical services. For true emergencies students are asked to access EMS and the 911-depatch system.
Students can also find additional information on their student health insurance benefits by visiting the Aetna Student Health Resource at aetnastudenthealth.com. Students with private health insurance must check with their insurance carrier for healthcare providers.
CHSU students are able to receive Telemedicine Benefits thought its insurance provider Aetna Student Health. To find more about this telemedicine benefit or to access these benefits please visit aetnastudenthealth.com. These benefits are available to all students whether or not you are enrolled in the CHSU student health insurance plan.
For students enrolled in the CHSU student health insurance plan, you may use Teladoc telehealth services. For students that are not enrolled in the CHSU student insurance plan, you may use telemedicine through MinuteClinic locations services. To access these benefits, please go to aetnastudenthealth.com.
Students who have waivered out of the Aetna Student Health Services and have their insurance with private health insurance company, must check with their insurance carrier for healthcare providers.
CHSU Health Insurance Portal
All CHSU-COM students are required to have health insurance coverage throughout all four years of medical school. Before registration and the beginning of each academic year, all students must provide proof of health insurance.
Students may have insurance through a variety of options including insurance through parents, spouses, or health exchanges. To ensure students have access to a comprehensive plan, CHSU-COM offers a student health insurance plan through Aetna Student Health. All students must enroll in the student sponsored health plan or provide proof of other acceptable health coverage. Dependents are also eligible to be enrolled in the Student Health Plan.
Details of Aetna Student Health can be found at https://www.aetnastudenthealth.com
To get started select California Health Sciences University in the drop down menu.
Counseling and Mental Health Services Available to Students
The study of osteopathic medicine, while rewarding, can also be challenging and stressful. California Health Sciences University COM (CHSU COM) is committed to providing its students with access to a system of counseling and mental healthcare. Our mission is to fully support the personal, social, and emotional well-being of CHSU students. In case of emergency, students should call 9-1-1.
CHSU-COM's Behavioral Health Specialist
Lisa James, LMFT, Behavioral Health Specialist, provides confidential and culturally sensitive services including counseling, crisis intervention and prevention. To schedule a confidential appointment with Lisa, please view her availability at the link below. If you need an evening session, please email her directly at ljames@chsu.edu to request a time.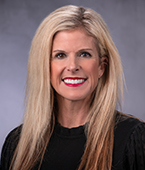 Lisa James, LMFT
Behavioral Health Specialist
ljames@chsu.edu
559-546-6019
CHSU-COM Psychological Counselor
CHSU-COM has coordinated with Dr. Audrey Punnett (Clinical Psychologist) to provide psychological counseling to CHSU-COM students. Eight clinical hour (45 minute) appointments are available on Mondays beginning at 12 noon and continuing on the hour thereafter. Dr. Punnett's office is located in Fresno, CA. Please call 559-225-8963 to make an appointment.
This service is provided at no cost to students and is intended for short-term care (up to 6 consecutive sessions). Students requiring longer term treatment will be referred by Dr. Punnett to another provider. Emergency consultations may be scheduled at Dr. Punnett's discretion.
Use of this service is confidential and the bills to CHSU-COM will de-identify the clients. There is a 24-hour cancellation policy and CHSU-COM will be billed for appointments cancelled with less than 24 hour's notice.
PLEASE NOTE: Dr. Punnett requests that the initial visit occur in person, outside, with masks and social distancing. At the initial visit it will be necessary to provide a signed consent form, tele-mental health consent form and an adult intake form. When you phone for an appointment please identify yourself as a CHSU-COM student. Dr. Punnett will provide information about office location during the call. Until further notice, subsequent visits will be virtual due to COVID.
Counseling Services with Zoua Xiong, LMFT
A licensed psychological counselor is contracted with CHSU to provide psychological counseling services for students suffering from anxiety, depression, alcohol and substance abuse, and for evaluation or accommodation of students suspected of having learning disabilities.
Students can receive up to six sessions paid for by CHSU. Contact Zoua Xiong at zouaxiongmft@gmail.com or call (559) 527–5883 to schedule an appointment.
CHSU Aetna Student Assistance Program (Aetna SAP) – a Mental Health Service for Students
Aetna SAP is a confidential mental health service for students. The service is now available; there is no cost to students. Individual counseling by licensed professionals is available 24/7 via Aetna SAP. Students have access to a therapist by phone, message, chat, or video. The website features information and assistance with relationships, emotional well-being, addiction, suicide prevention, wellness assessment and screening, legal and financial resources, and other health and wellness topics.
The Aetna SAP website features information and assistance with:
Relationships
Emotional well-being
Addiction
Wellness assessments and screening
Legal and financial resources
Suicide prevention
Other health and wellness topics
Referrals to local mental health, financial, legal, housing, and childcare resources are also available.
Username: CHSU
Access Code: CHSU
Student Support Line: 877-351-7889
https://www.aetnastudenthealth.com/en/school/175147/members/student-assistance-program.html
All contact with Aetna SAP is completely confidential. Our mission is to fully support the personal, social, and emotional well-being of CHSU students. You will need the CHSU username and access code every time you call or use the website.
Contact your Office of Student Affairs with questions or for additional information.
National Suicide Prevention Hotline:
National Suicide Prevention Hotline 24/7
Call or Text 988
988lifeline.org
Central Valley Suicide Prevention Hotline
(800) 273-8255
fresnocares.org
CHSU Wellness Resources
If you find yourself dealing with the pressure, stress, and challenges of daily life and don't know where to turn for assistance, check out the Library's new wellness resource guide for CHSU students, faculty, and staff.
Here you will find information on the following topics:
CHSU Wellness Events
Exercise, Fatigue, Nutrition
Mental Health & Wellness
Mindfulness
WellConnect
Check out the Mindfulness section to find apps, podcasts, videos, and book ideas to help with relaxation, meditation, sleep, and ways to relieve stress and anxiety.
CHSU Wellness Policies
Student exposure to infectious disease and environmental hazards
PROCEDURES
If a student experiences an exposure incident while participating in clinical experiences and/or clinical laboratory activities, it is to be handled as an emergency. The student is required to:
Immediately cleanse the wound with soap and water or if contact in the eye(s) or mucus membranes flush with water for several minutes.
Contact the appropriate CHSU personnel immediately:

If Year 1 or 2, report the exposure incident to the:

Office of Student Affairs
Instructor of Record

If Year 3 or 4, report the exposure incident to the:

Office of Student Affairs
Instructor of Record
Associate Dean of Clinical Affairs/Experiential Education Director
Clinical Preceptor

Proceed to the nearest emergency department for immediate evaluation and treatment as needed.
Within 24 hours, complete and submit an Exposure form to the Office of Student Affairs. The form may be submitted electronically.