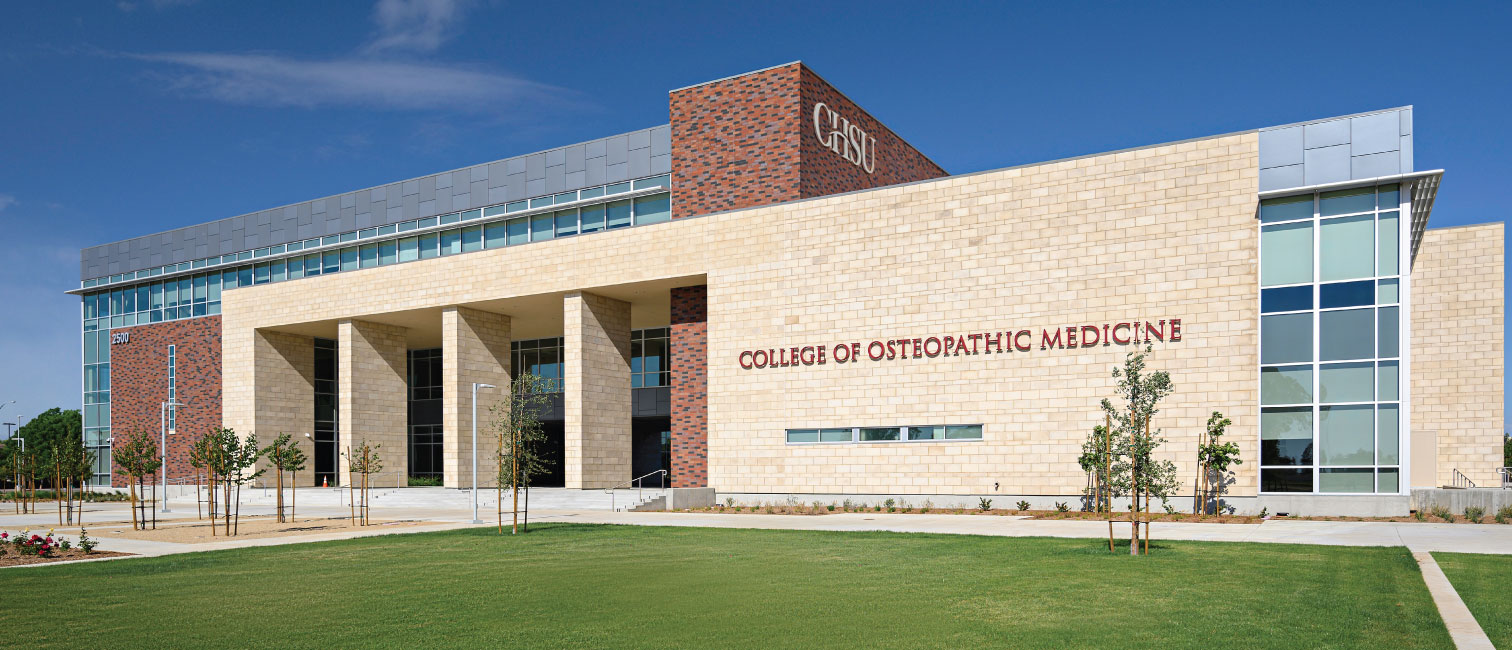 admissions
Find the details of the CHSU-COM admissions requirements and how to make your application stand out.

The application cycle is now open for the Class of 2026! To apply to the CHSU-COM Doctor of Osteopathic Medicine program, please visit www.choosedo.org
Minimum REQUIREMENTS
Baccalaureate degree (or equivalent) from an accredited institution.
An overall cumulative and science grade point average (GPA) of 3.0 or higher on a 4.0 scale.
MCAT score of 498 or higher, with no subsection below the 15th percentile.

Scores from January 1, 2020 or later will be accepted

Provide 2 Letters of Recommendation.
Satisfactorily complete the prerequisite courses listed below prior to matriculation.
U.S. Citizenship, U.S. Permanent Resident, or DACA Recipient
---
PREREQUISITE COURSEWORK REQUIREMENTS
Prerequisite Course
Semester Hours
Quarter Hours
Behavioral Sciences
3 credits
4
Biology
8 credits / one year
12
Inorganic or General Chemistry
4 credits
6
Organic Chemistry
8 credits / one year
12
Physics
8 credits / one year
12
English (e.g. Composition/Literature)
*AP credits for English are accepted if specified on the transcript
6 credits
9
Recommended: Microbiology, Biochemistry, Anatomy, Physiology, Genetics, Immunology
The following requirements apply to all prerequisite coursework:
Must Be Taken at Accredited College or University
All prerequisites must be completed at an institution accredited by an agency recognized by the U.S. Department of Education. For international students, please see separate provisions in the Admissions Policy applicable to international coursework.
Deadline for Prerequisite Completion
Applicants must complete or plan to complete all prerequisites prior to July 1 preceding enrollment in the COM, unless an exception is approved by the Dean's Office. If courses are not complete and shown on transcript at the time of application, please provide a plan for completing them prior to July 1.
Letter Grade of C or Better Required
Students must earn a minimum grade of "C" or higher to satisfy completion of each prerequisite course. Grades of "C-", pass/no pass, credit/no credit will not be accepted. CHSU-COM will accept a grade of PASS in a pass/no-pass grading system or CREDIT in a credit/no credit grading system, for courses taken during grading periods affected by COVID restrictions (beginning in Spring 2020).
Courses Must Be Taken within Ten (10) Years of Enrollment
All applicants must complete all science prerequisite requirements ten (10) years prior to enrollment in the COM. Applicants who have taken science prerequisite courses more than ten (10) years ago may be required to repeat that coursework prior to matriculation.
---
Letters of Recommendation
There are 2 letters of recommendation required for admission to CHSU-COM:
One letter from a physician (DO or MD) that details the applicant's ability to be successful in a medical setting. A letter of recommendation from an osteopathic physician is preferred.
One academic letter written by a college science professor who has instructed the applicant. The letter should detail the applicant's aptitude in a challenging academic setting.
NOTE: A pre-med or pre-health profession committee letter that includes items listed above will satisfy the requirements for those items.
Additional Letter of Recommendation Criteria
Applicants are responsible for informing evaluators of these requirements when requesting letters.
Letters from relatives, spouses, family friends, or the applicant's family physician will not be accepted; authors should be as objective as possible.
Letters are also expected to be written on the letterhead of the recommender's university, company, organization, or practice, with credentials, date, and signature.
Letters will only be accepted through AACOMAS or Interfolio. Applicants who wish to utilize Interfolio must coordinate to have their letters sent to AACOMAS. CHSU-COM does not accept paper letters of recommendation or letters sent directly from the evaluator or applicant via either mail or email. CHSU-COM reserves the right to refuse any letter that is not signed by the evaluator. Digital signatures are acceptable.
CHSU-COM is not responsible for receipt or processing of materials that do not conform to these guidelines. Letters of recommendation will be reviewed once the Supplemental Application is submitted.
---
Admissions Process
CHSU-COM seeks to admit those students who possess the academic, professional, and personal qualities necessary to become exemplary osteopathic physicians. CHSU-COM uses a rolling admissions process in which applications are reviewed and interview decisions are made at regular intervals during the admissions cycle. To be competitive within this process, applicants are strongly encouraged to apply early in the cycle. The AACOMAS application and all other required materials, which include MCAT scores, official transcripts, and required letters of recommendation, must be received by the Office of Admissions on or before March 1, 2023.
The CHSU-COM Admissions staff screens primary applications to ensure that they meet minimum criteria. Qualified applicants will be invited to complete the Supplemental Application process, which includes two essays, an evaluator identification verification, and payment of the Supplemental Application Fee. The Supplemental Application Fee will be waived for any applicants who have qualified for an AACOMAS Fee Waiver.
Upon receipt of all aspects of the Supplemental Application process, applications will be reviewed in depth and Admissions staff will verify that all required Letters of Recommendation have been received.
Selected candidates will be invited for a virtual interview and will be offered available interview dates. As CHSU-COM utilizes rolling admissions, a candidate may be invited for an interview at any time after the completed primary and supplemental applications have been received and reviewed.
Following the virtual interview, the Admissions Committee will perform a holistic review and consider the entire application package and interview performance prior to making a recommendation to the Dean. The CHSU-COM Dean will make the final admissions decision and COM Admissions staff will notify the candidate of the decision.
Applicants who are offered admission will be provided with additional instructions for securing their seat in the class, including signing an Enrollment Agreement and paying a Seat Deposit. Applicants who are placed on the Waitlist remain eligible candidates and have the potential to receive an offer of admission up to the day before COM Orientation.
AACOMAS Primary Application Submission
Primary Application Review
Invitation to Complete Supplemental Application
Review of Supplemental Application
Offer for Interview
Interview
Admissions Committee Review and Recommendation to the Dean
Dean Makes Final Admission Decision
---
Frequently Asked Questions
The Admissions staff will review all Primary Applications to determine if the minimum requirements have been met. If you are invited to complete the Supplemental Application process, you will receive an email with a link to the CHSU-COM Application Portal, you will use to monitor your application.
Please log into the CHSU-COM Application Portal regularly and be sure to check for completed items. Applicants will be notified via e-mail if they have a change in admissions status or if they are prompted to complete next steps in the admissions process.
The best method to find answers to most questions is by reviewing our CHSU-COM Admissions website in its entirety. Questions that are not answered on our website should be emailed to COMAdmissions@chsu.edu
Requests for advising appointments should be emailed to COMAdmissions@chsu.edu. Please keep in mind that the Admissions Office works diligently to review applications, and responses may not be immediate. For urgent matters, please call (559) 712-4222 and leave a voicemail if you are unable to reach someone.
We offer COM Info Nights on a quarterly basis. Please be sure to check our website for announcements of these events. If you would like to join the CHSU-COM Email Interest List to be informed of upcoming events, please click on this link.
The Admissions Office will not review application materials outside of AACOMAS. If an applicant would like guidance in terms of prerequisite planning, we would encourage them to review our prerequisites and contact their academic advisor at their institution.
We are not offering individualized tours. COM Info Nights, which are scheduled quarterly, afford opportunities for prospective students to see the building and learn more about CHSU-COM. Take a virtual tour of our campus here.
National averages for qualifying GPA and MCAT scores for matriculating in an Osteopathic Medical College can be found at choosedo.org/admission-requirements. You can also see the average for the Class of 2024 here and Class of 2025 here.
California Health Sciences University (CHSU) is accredited by the WASC Senior College and University Commission (WSCUC). CHSU-COM has achieved Pre-Accreditation status from the Council on Osteopathic College Accreditation (COCA), which is the highest level of accreditation awarded to a new COM until graduating its first class. Once full accreditation is granted, it is retroactively applied so that graduates receive their degree from a fully-accredited institution. Graduates receiving the DO degree will have participated in the Residency Match, will be eligible for entry into all residency programs, and may achieve licensure in all 50 states.
Our minimum requirements were intentionally set at a level that will attract a more diverse applicant pool, while staying at a level where applicants are more likely to achieve passing grades and board scores. Applicants must meet minimum requirements in order to be moved further in the admissions process.
Currently, CHSU-COM is accepting only U.S. Citizens, U.S. Permanent Residents, and DACA recipients. Applicants who are not U.S. Citizens are encouraged to familiarize themselves with licensing requirements in the state where they plan to practice, to ensure that their residency status will not limit them from obtaining a medical license.
Applicants who have done coursework at a foreign institution must receive an evaluation through World Education Service (WES). WES transcript evaluations should be sent directly to AACOMAS.
Updates such as test scores, experiences, achievements, and/or certifications can be made directly in AACOMAS.
Academic Updates for in-progress/completed coursework can be made during the following timeframes for the 2021-2022 cycle:
September 3, 2021 to October 13, 2021
December 15, 2021 to February 16, 2022
March 14, 2022 to April 11, 2022
Applicants are responsible for submitting and updating their application material through AACOMAS.
We DO NOT require a Letter of Interest/Intent. Applicants who wish to submit a Letter of Interest/Intent should do so in their CHSU-COM application portal, in the Upload Documents section. Documents should be in .pdf format.
CHSU-COM welcomes applicants from across the country. While we do highly value local applicants, we also recognize the importance of a diverse student body. We look at each applicant on an individual basis and we encourage out-of-state applicants to apply.
The timing of applying to our program is completely at the applicant's discretion. Please keep in mind that it can take up to three weeks for official MCAT scores to be received after having taken the test. Please be advised that applications will not be considered complete until they include an official MCAT score which meets CHSU-COM's minimum requirements. CHSU-COM uses a rolling admissions cycle, so we encourage all applicants to apply early for best consideration.
---
Tips for Making Your Application Stand Out
The CHSU-COM Admissions team receives many questions from applicants about what they can do to set themselves apart and make their application stand out. Generally, we have found that a competitive applicant will demonstrate one or more of the following:
Experience in or understanding of a career in health care
A commitment to or understanding of osteopathic medicine
Service to the community
Research and other scholarly activities
If you are able to clearly communicate one or more of these experiences, this may help you to stand out during the applications process. For more information, visit choosedo.org/how-to-apply
---
How to contact admissions
We welcome all inquiries regarding applications. Materials pertaining to applications should be directed to the Admissions Office at 559-712-4222 or via e-mail at COMadmissions@chsu.edu.
Once applicants have been invited to complete a Supplemental Application, they will gain access to their CHSU-COM Application Portal. We encourage applicants to monitor their status through the CHSU-COM Application portal. Applicants should be sure to check for missing or incomplete items. Applicants will be notified via email if there is a change in their admissions status, or with a request to complete the next step in the admissions process.
When contacting the Admissions office, it is considered most professional to call once and leave a voicemail and/or send one email; repeatedly calling or emailing is unnecessary. Similarly, any type of direct communication to the CHSU-COM Deans or Admissions Committee members is prohibited, whether by the applicant, the applicant's parents, employers/supervisors, faculty members or advisors. Any attempt to do so is considered "inappropriate communication" and unprofessional.
---
AACOM Resources
For more information, please email us at COMAdmissions@chsu.edu.