CHSU College of Osteopathic Medicine
RESEARCH and scholarly activity

featured projects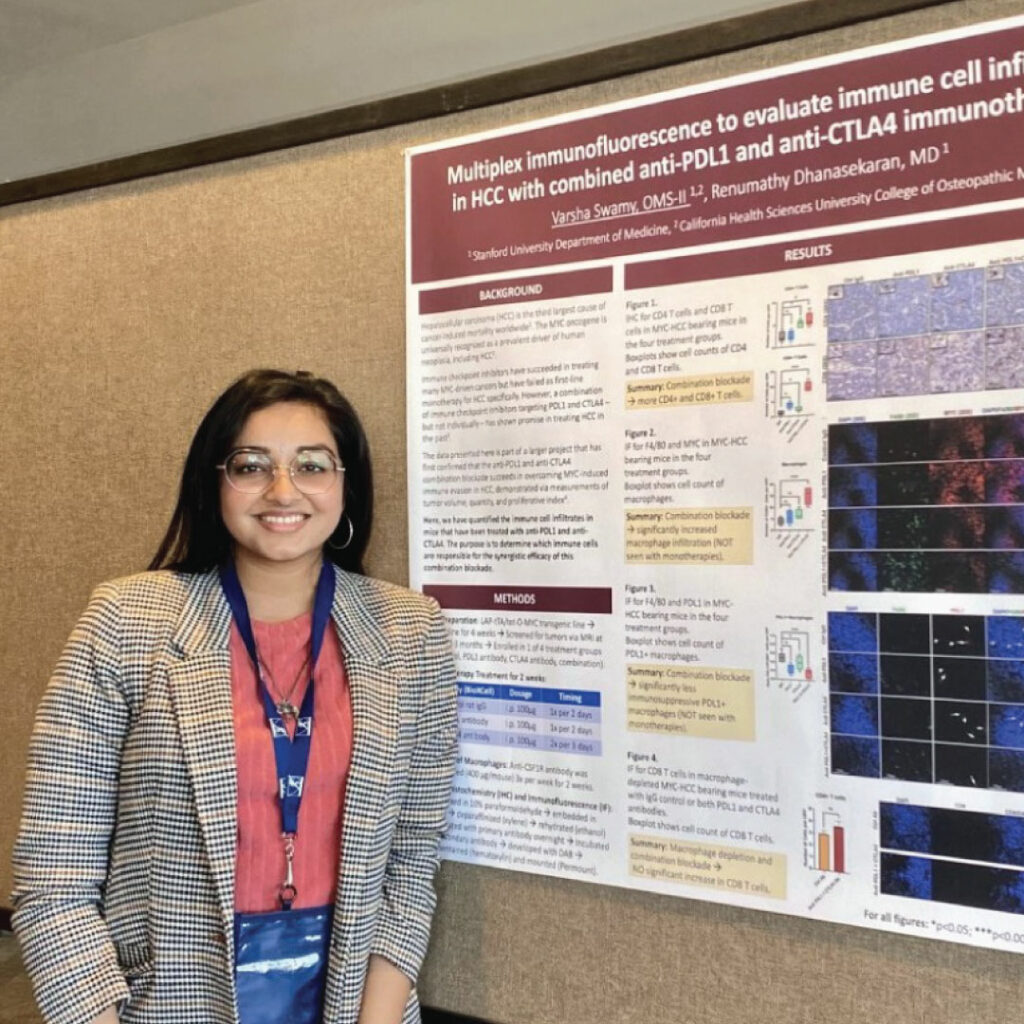 Multiplex immunofluorescence to evaluate immune cell infiltrates in HCC with combined anti-PDL1 and anti-CTLA4 immunotherapy
Varsha Swamy, Class of 2024
PROJECT DETAILS
Varsha Swamy, OMS-III, won second place for her project titled, "Multiplex immunofluorescence to evaluate immune cell infiltrates in HCC with combined anti-PDL1 and anti-CTLA4 immunotherapy" at the 9th Annual OPSC Poster Competition. Her project examined a new combination therapy for hepatocellular carcinoma (HCC), the third leading cause of cancer mortality worldwide.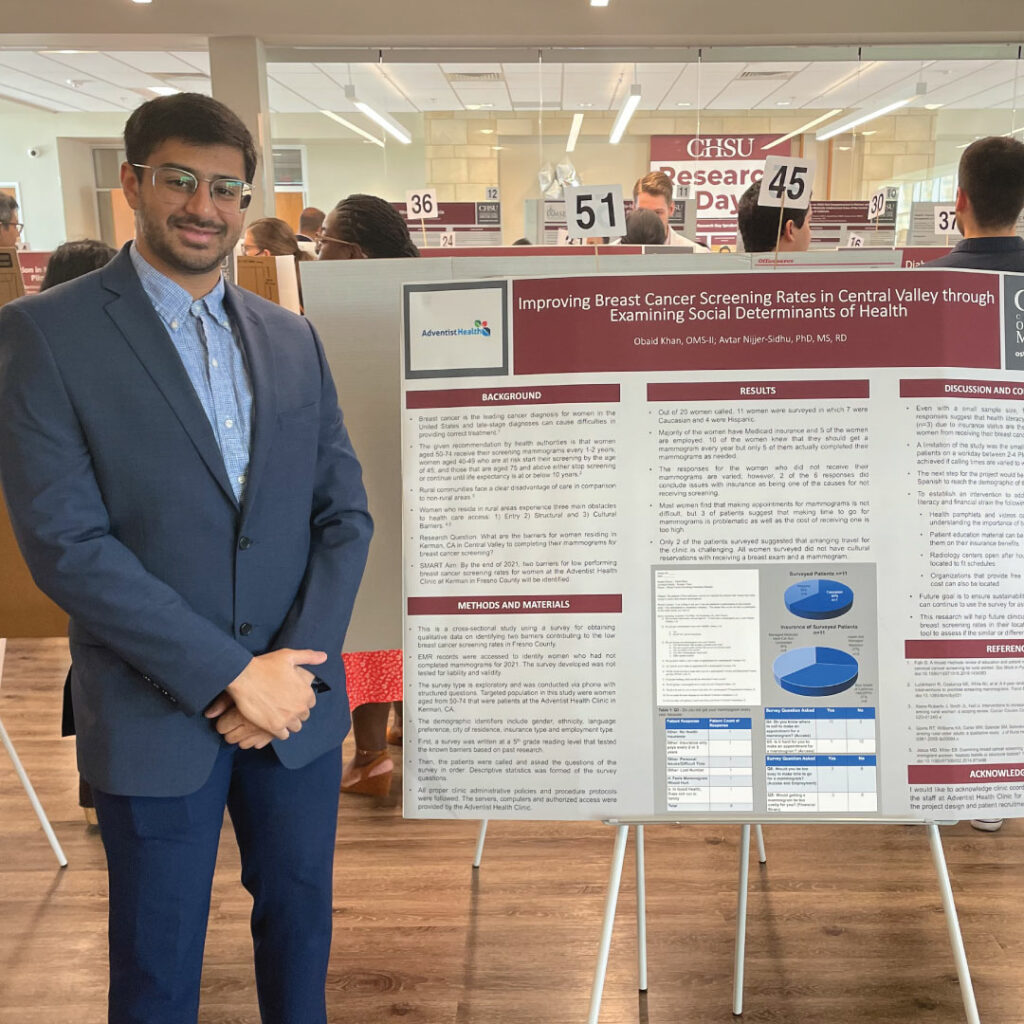 Improving Breast Cancer Screening Rates in Central Valley through Examining Social Determinants of Health
Obaid Khan, Class of 2024
PROJECT DETAILS
Obaid Khan, OMS-III, presented his research poster titled "Improving Breast Cancer Screening Rates in Central Valley through Examining Social Determinants of Health" at the 2nd Annual CHSU Research Day. This project identified the barriers towards the low performing BCS rates in the rural population of Adventist Health Clinic in Kerman, CA. This is a cross-sectional study using a survey for obtaining qualitative data on identifying two barriers contributing to the low breast cancer screening rates in Fresno County.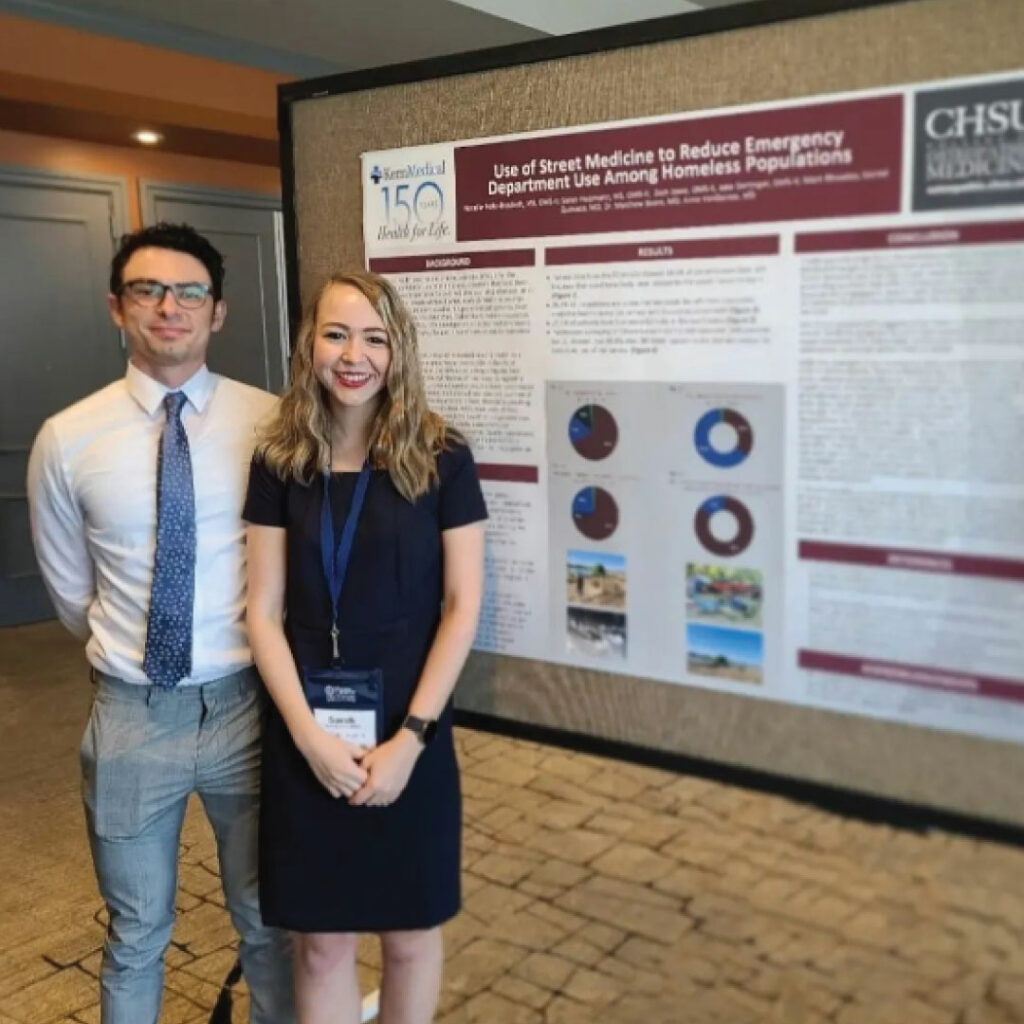 Use of Street Medicine to Reduce Emergency Department Use Among Homeless Populations
Sarah Holzmann, Natalie Pena-Brockett, Zachary Josse, Jake Dertinger – Class of 2024
PROJECT DETAILS
Zachary Josse and Sarah Holzmann, OMS-IIIs, presented their group's research at the 9th Annual OPSC Poster Competition. The project identifies factors associated with emergency department (ED) visits among individuals who are unhoused in Bakersfield, California, and evaluate the efficacy of street medicine interventions. The study examined patterns of emergency department use and its associated factors, including acute and chronic disease.
At CHSU, we believe research and scholarly activity is important to the development of both our future osteopathic physicians and our current health care professionals. Here we want to showcase some of the completed and on-going research of our CHSU students and faculty members.
Just weeks into their first year, CHSU medical students start early service-learning projects while embedded in Central Valley health centers. Student doctors collaborate with faculty, preceptor physicians, other health care providers, and scientists to conduct research to benefit their partner health care center. Students also have the opportunity to potentially publish their research in peer-reviewed journals and present at conferences.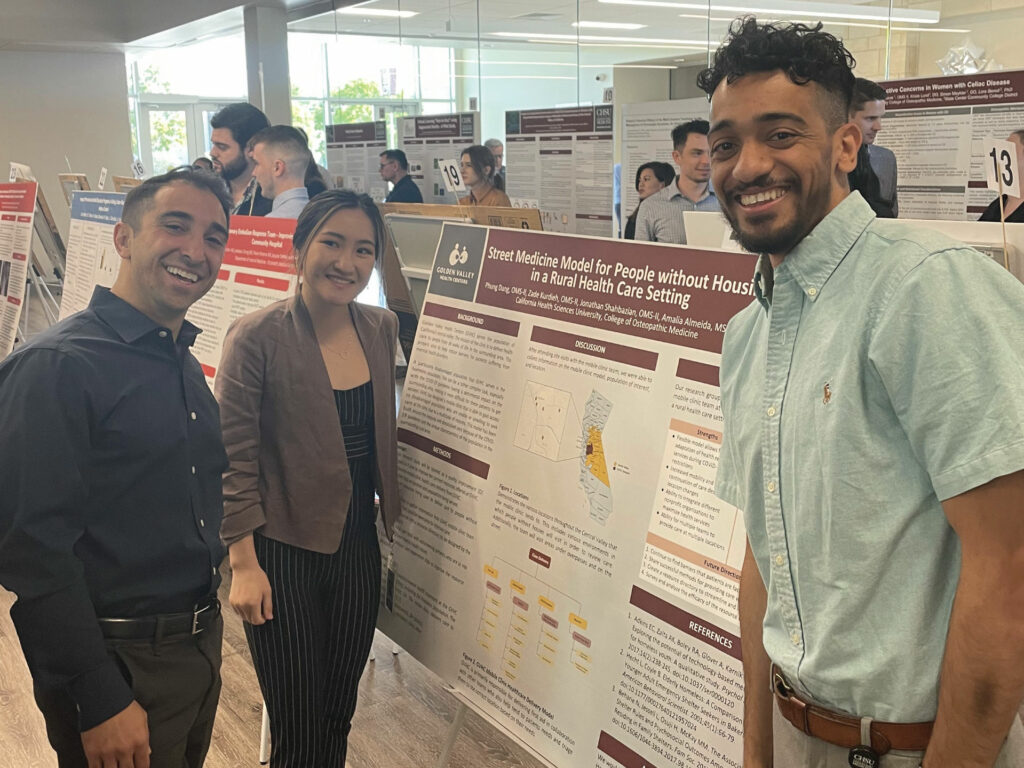 Research Projects
See what research our faculty, staff and students are currently conducting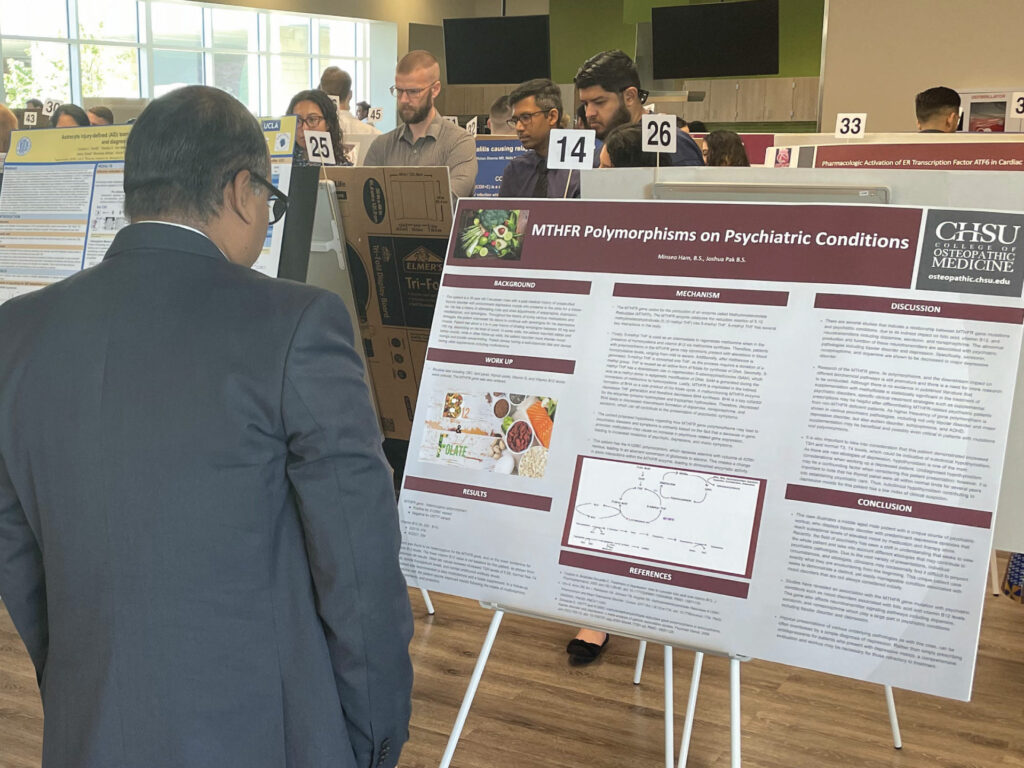 Published Research
See the latest published research by our faculty, staff and students. You will be redirected to the Dimensions database that displays research published in various journals.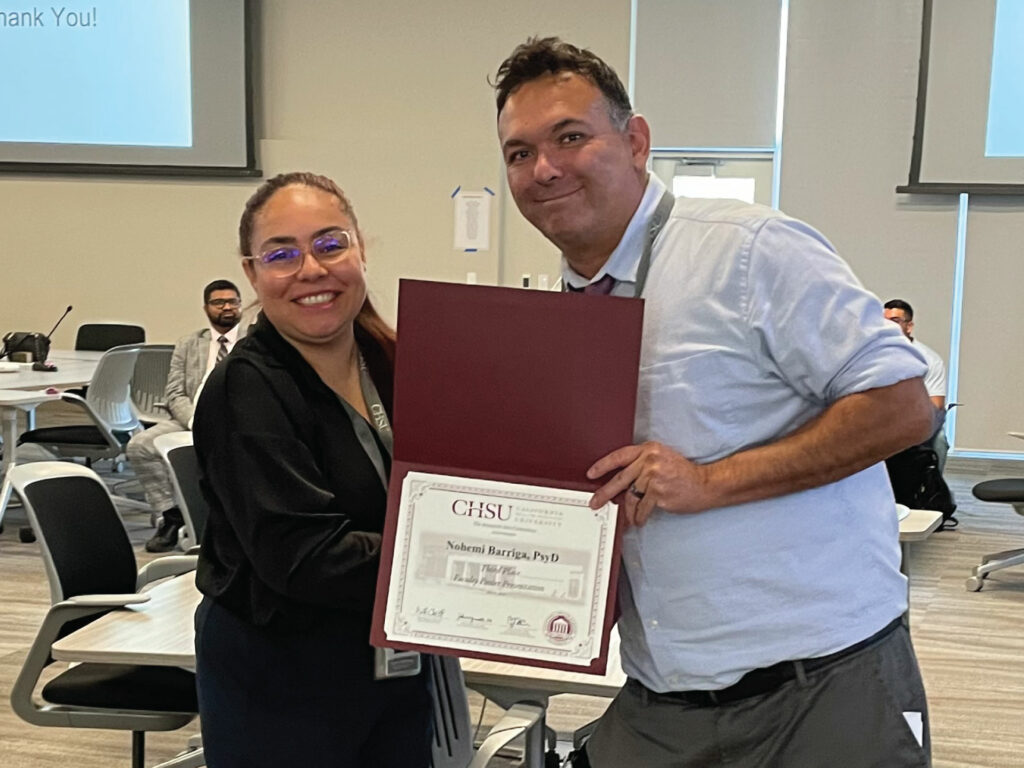 Our Faculty's Past Research
For a complete list of research conducted by our esteemed faculty, please view the Faculty Research list.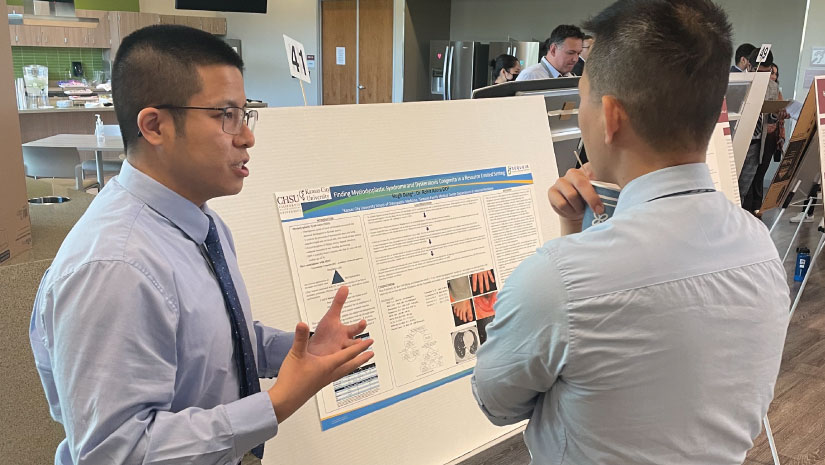 Research day
The CHSU Research Day showcases the research and scholarly activities by both our CHSU community and the greater Central Valley medical community. CHSU students and faculty members, local researchers, clinicians, pharmacists, resident physicians/pharmacists and faculty leading local Residency and Fellowship programs are welcome to participate.
Related Links
About Research Day
2022 Research Day Abstract Booklet
2022 Research Day Winners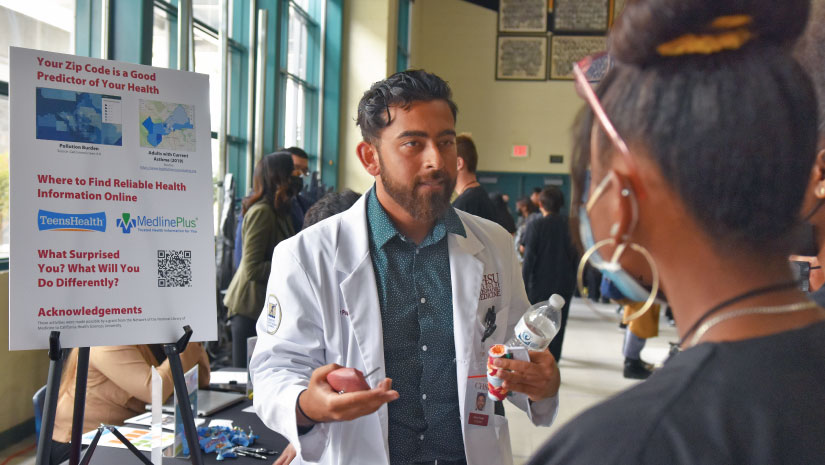 PRHS Course
Through CHSU's Physician's Role in the Health System course, medical students begin making an impact on patients through research projects designed to improve patient care and health outcomes at their partnering health clinic, hospital or other health care site.
Related Links
About PRHS
Become a PRHS Course Partner (coming soon!)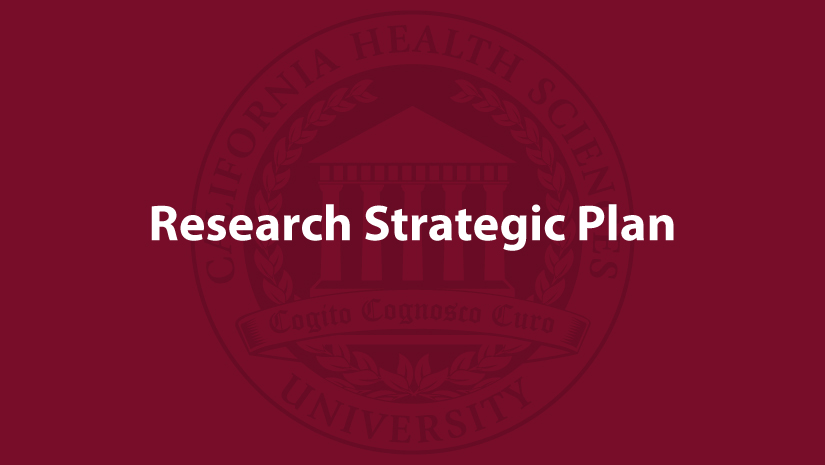 Research Strategic Plan
In concert with the University's academic vision to become a model of interprofessional team-based education, CHSU aspires to be a preeminent health sciences university in the scholarship of teaching and learning.
Related Links