Record Attendance at 3rd Annual CHSU Research Day
May 24, 2023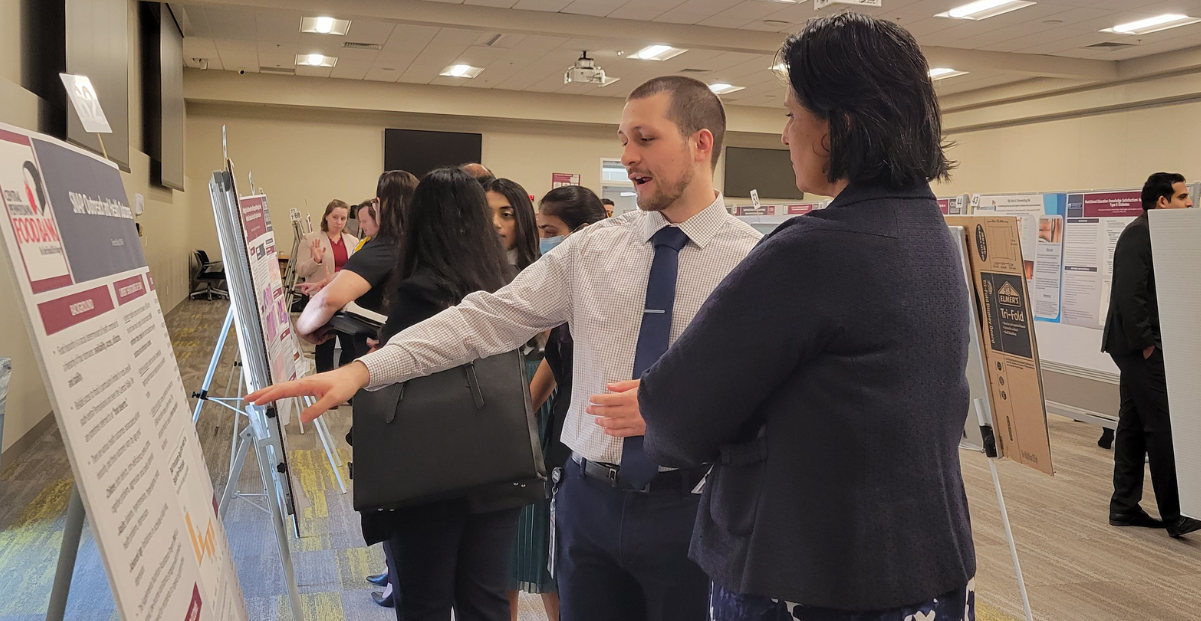 California Health Sciences University (CHSU) held its third annual Research Day on May 20, 2023. With the largest event to date, approximately 150 people were in attendance.
The CHSU Research Day showcased the research and scholarly activities by students and faculty members. In addition, local researchers, clinicians, pharmacists, physician/pharmacist residents, and faculty leading local Residency and Fellowship programs were invited to participate.
Keynote Speakers
Two prominent physicians were keynote speakers at the CHSU Research Day.
Eyad Almasri, MD, conducted a presentation titled, "Pulmonary diseases highly prevalent in the Central Valley."
Dr. Almasri is an established physician at UCSF Fresno. He completed fellowships at the University of Pittsburgh and at Western Pennsylvania Hospital. Dr. Almasri specializes in pulmonary medicine and is board certified in Internal Medicine, Pulmonary, Critical Care and Sleep Medicine. His current position is Associate Clinical Professor of Medicine and Director of Research at UCSF Fresno. Dr. Almasri is a member of the American College of Chest Physicians (ACCP), the Society of Critical Care Medicine, and the American Medical Association He has had ten manuscripts published in the last two years.
Antonio "Tony" Zamorano, DO, spoke about his specialty area with a presentation titled, "Family Medicine Frontlines: Short and Long-term COVID impacts to small clinics."
Dr. Zamorano is a Family Medicine Physician with his own practice, Whole Family Health in Glendora, California. He completed his medical school education at the New York College of Osteopathic Medicine. Dr. Zamorano's residency was at UC Irvine and Presbyterian Hospital. He is board certified in family medicine, cardiac life support (advanced and pediatric), and cosmetic injectables. Dr. Zamorano is a member of the American Medical Association (AMA), the American Academy of Family Physicians (AAFP), the American Osteopathic Association (AOA), and the California Academy of Family Physicians.
Poster Competition
The event included a competition for the best poster and podium presentation in various categories, such as: Faculty, Resident Physician/Pharmacist, and Student. The top three presenters in each category were recognized with an award and a certificate at the event.
Award for Top Faculty Poster
"Acute management of hypertriglyceridemia with a disease specific intravenous insulin infusion order set" F. Ibarra, CHSU and Community Regional Medical Center.
Award for Top Resident or Physician Posters
"Antiphospholipid Antibody Syndrome in SLE: A Rare Case" U. Rashid, H. Kaur, R. Zhu, J. Patri, Adventist Health Hanford
"Mucormycosis with Necrotizing Fasciitis in a Diabetic Patient" J.Maddela, S.Cherwoo, F.Entabi, S.Veranyan, M.Khan, Adventist Health Tulare
"Getting Down to the Bone! Charcot Marie Tooth Style" M. Nameni, DO, M. Khan, MD, FAAFP, H. Laimer, DO, FAAFP, Adventist Health Tulare
Award for Top Student Posters
"Identifying Practices Among Diabetic Patients: Elevated A1C levels vs Controlled A1C Levels" K. Hmayakyan, D. Ngo, T. Liu, M. Wu, CHSU and United Health Center, Parlier
"The Relationship of Diabetes Status to Total and Regional Brain Volumes and Cognitive Function" R. Grewal BS, L. Yanek MPH, L. Becker MD, D. Vaidya MBBS, PhD, MPH, P. Nyquist MD, MPH, R. Kalyani MD, CHSU and John Hopkins University
"Moyamoya Disease in a 28-Year-Old Pregnant Female" D. Shakran G. Gonzalez, MD, CHSU and Peachwood Medical Group
"Sodium-Glucose Cotransporter 2 Inhibitors: Benefits Versus Risk" J. Bains, V. Gupta, S. Malepati, F. Molla, B. O'Brien, D. Santander, S. Pemminati, CHSU
Special Award Presentation
A special award presentation was held at Research Day for Christina Su, second year CHSU medical student. Su was presented the 2023 Excellence in Public Health Award from the U.S. Public Health Service Physician Professional Advisory Committee.
This prestigious award was presented by Alexa Schappert, DVM, MPH, a lieutenant in the United States Public Health Service who serves as a Supervisory Public Health Veterinarian in the OFO Alameda District of the Food Safety and Inspection Service of the USDA.