CHSU Second Year Medical Students Honored at Pinning Ceremony
May 25, 2023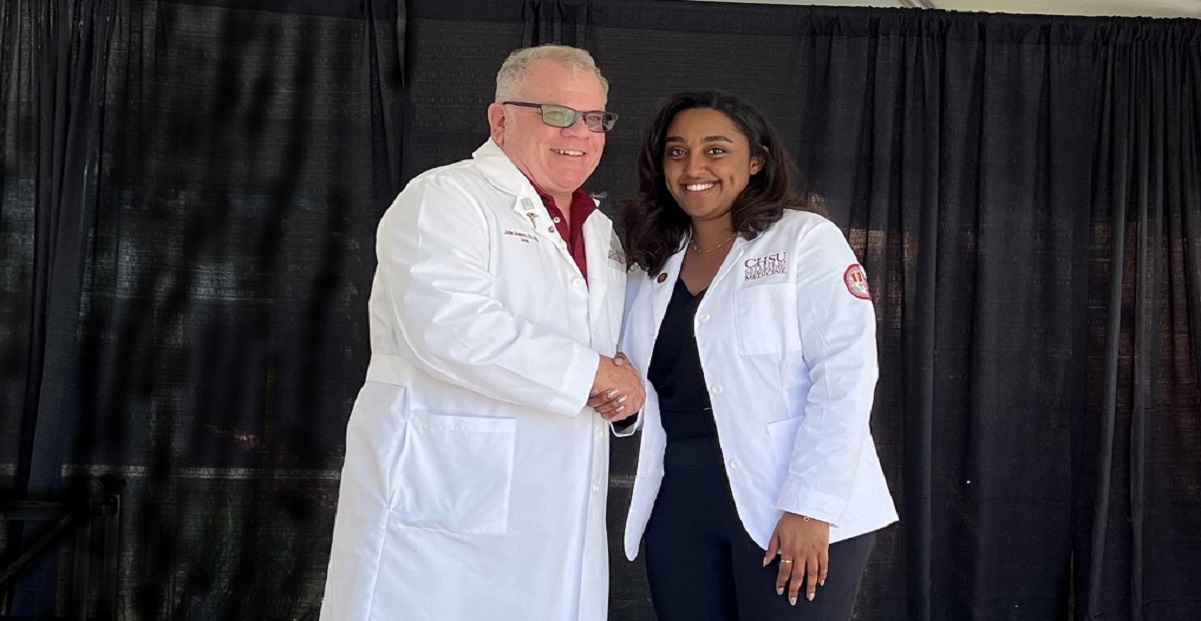 Photo Above: John Graneto, DO, Dean for the CHSU College of Osteopathic Medicine poses with now third-year medical student, Yanet Benyam, at the Class of 2025 Pinning Ceremony.
The California Health Sciences University College of Osteopathic Medicine (CHSU-COM) hosted a Pinning Ceremony and Awards picnic on May 19th to celebrate the end of the 2022-2023 academic year with COM students, faculty, staff, and administration.
The class of 2025 osteopathic medical students received their pins during a Pinning Ceremony to symbolize their initiation as third-year medical students starting their clinical rotations. After completing their first two years of medical school coursework, CHSU-COM osteopathic medical students complete their final two years of clinical training under the supervision of physician preceptors in hospitals, clinics, private practices, and health centers throughout the Central Valley and California.
The End of Year Awards were presented to students, faculty, and staff in various categories that were voted for by members of the COM. National and regional awards received by students and faculty during the academic year were also recognized at the event.
During the festivities, several students showcased their talents while performing break dancing, a magic show, and a song.
The CHSU-COM Pinning and Award Program booklet showcases the 2022-2023 award winners and class of 2025 roster.