Medical Students Win OPSC Poster Competition
March 17, 2022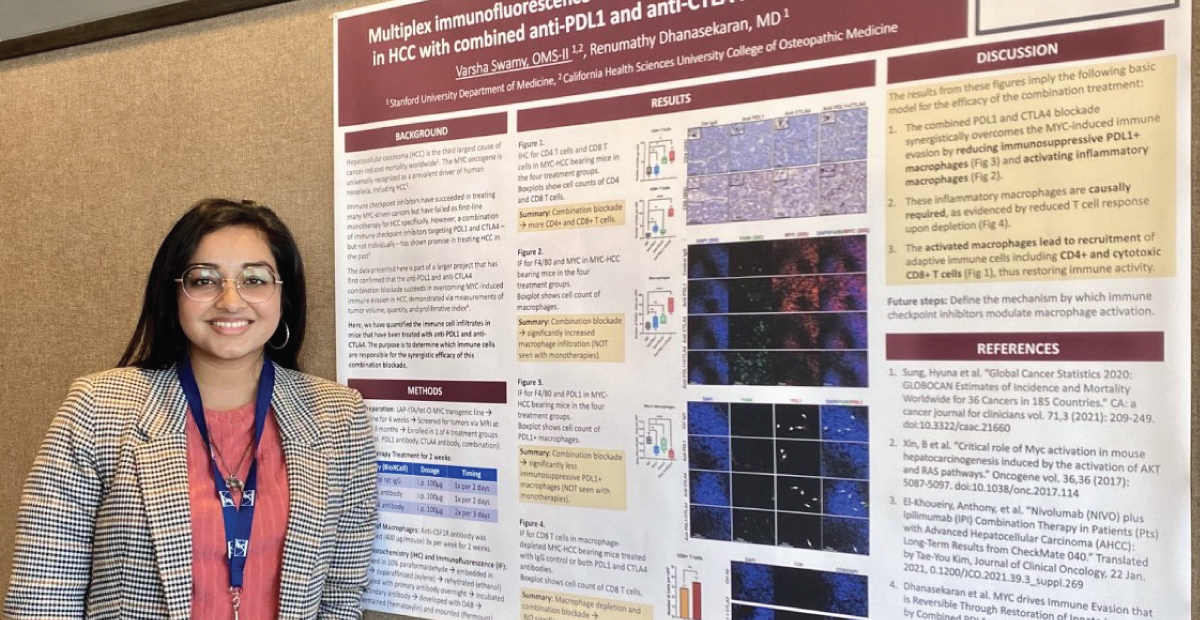 Several of our California Health Sciences University College of Osteopathic Medicine (CHSU-COM) medical students presented their community public health research projects at the 9th Annual Osteopathic Physicians and Surgeons of California (OPSC) Poster Competition in February. CHSU-COM had a podium sweep, winning 1st, 2nd, and 3rd place, competing against the two other osteopathic medical schools in California.
Volodia Muradyan, second year medical student, won first place for his project titled, "Mutational Analysis of SARS-CoV-2 Variant Omicron Reveals Profound Immunogenetic Adaptations: A Lesson on Antigenic Drift," which examined how the Omicron variant has evolved to enable it to escape all three arms of the immune system at once.
"The research topic was very similar to my projects as a master's student, so this piqued my interest," said Muradyan. "I saw an opportunity to learn more about how COVID works and how it has been evolving. Doing genetic analysis and protein sequencing is interesting to me."
Second place was awarded to Varsha Swamy, second year medical student, for her project titled, "Multiplex immunofluorescence to evaluate immune cell infiltrates in HCC with combined anti-PDL1 and anti-CTLA4 immunotherapy," which examined a new combination therapy for hepatocellular carcinoma (HCC), the third leading cause of cancer mortality worldwide. HCC is known to be particularly aggressive and difficult to treat.
"Asian and Hispanic Americans have the highest incidence rates of HCC in the United States. The Central Valley has sizable amounts of both ethnic communities," said Swamy. "Any new treatment that shows promise in treating HCC, including the combination therapy my project focused on, has the potential to greatly improve health outcomes for these liver cancer patients – including those right here in the Central Valley."
Third place was awarded to Dina Shakran, second year medical student, for her project titled, "In Silico Assessment of COVID-19 Omicron Infection Risk in Different Ethnic Populations of the US," which examined how the Omicron variant affects different ethnic populations based on their genetics. The results showed that some ethnic populations living in the Central Valley have increased susceptibility to infections with Omicron.
"My research began in the middle of the COVID pandemic, where we were unsure of what was to come and it seemed like new changes were happening every day," said Shakran. "When the opportunity arose to study COVID and how it was affecting different populations, I jumped at the chance to be able to learn more about the virus that had changed our lives in a span of a few years."
Congratulations to the award winners and to all our CHSU-COM students who participated in the OPSC Poster Competition!
Information for this article was submitted by Varsha Swamy, OMS-II.