CHSU-COM Volunteers Nearly 500 Hours Giving COVID Vaccines
April 30, 2021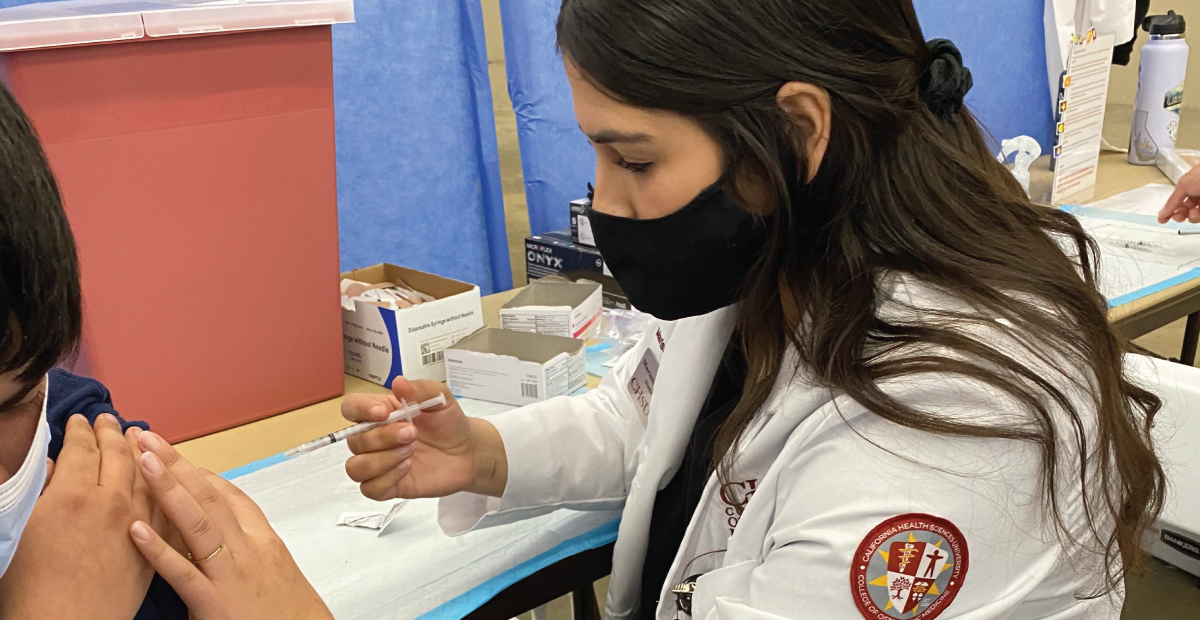 When California Health Sciences University's College of Osteopathic Medicine heard about the need for volunteer vaccinators to administer COVID-19 vaccinations at the Fresno Fairgrounds, faculty and students were eager to answer the call.
First year CHSU-COM students were trained in February on vaccine administration and intramuscular injections (IM). Typically, medical students would be trained to administer these in the second year of their curriculum during their Clinical Skills class.
Since February, 57 CHSU-COM students have volunteered, spending many Saturday mornings at the Fairgrounds administering COVID vaccines. While the medical student curriculum is vigorous and many hours outside of class are spent studying, CHSU-COM students saw our community's need for vaccinators and still wanted to participate in this extracurricular volunteering opportunity.
Seven of the CHSU-COM faculty and administrators joined the students to help oversee vaccine administrations. Thanks to John Graneto, DO, MEd, FACOP, FACOEP-dist, FNAOME, Dean, Chief Academic Officer, Vice President of Health Affairs of the CHSU College of Osteopathic Medicine; Lisa Chun, DO, MS.MEdL, FNAOME, CPE, OHPF, Associate Dean, Osteopathic Clinical Education and Simulation; Leslie Catron, M.A.ED, BSN, RN, CHSE, Simulation Center Director and Instructor; Richard Geshel, DO, Associate Professor of Osteopathic Principles and Practices; Pamela Kammen, MD, Assistant Professor of Specialty Medicine; Chhaya Makhija, MD, Adjunct Assistant Professor of Specialty Medicine; and Larry Miller, DO, PhD, Adjunct Assistant Professor of Primary Care for overseeing the CHSU-COM students, accounting for 190 volunteer hours of the 475 hour total.
This World Immunization Week, CHSU encourages widespread and early COVID-19 vaccination of all eligible individuals to help ensure the health of our community and restore the activities of our daily lives that have been missed for the past year. Learn more about Fresno County's vaccination sites at https://www.co.fresno.ca.us/departments/public-health/covid-19