CHSU Health Camp Teaches Sherman Thomas STEM Academy Students About Careers in Health Care
June 10, 2019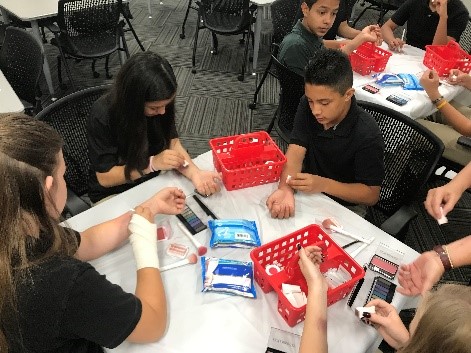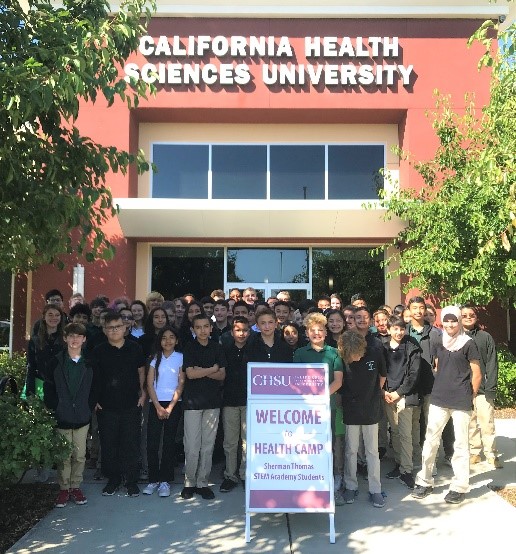 California Health Sciences University (CHSU) hosted 6th, 7th, and 8th grade students from the Sherman Thomas STEM Academy in Madera on June 3, 2019 for a day long Health Camp. The 60 students in attendance were introduced to health care careers in a fun and interactive way through hands-on activities facilitated by CHSU faculty, pharmacy students, and pre-pharmacy students.
The first activity helped the students learn about the role of an osteopathic physician on the health care team and they utilized equipment to simulate giving a patient physical assessment in the exam room labs. They also learned how to make bruises with medical moulage make-up and how this technique helps medical students to diagnose injuries and health risks during simulations.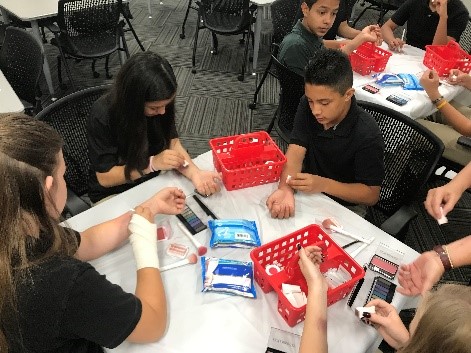 After the activity, the students toured the CHSU Research lab, received demonstrations of the equipment and learned about research techniques, projects, and practices.
The participants also attended a presentation about opioid abuse to understand the severity of taking prescription medications incorrectly. Following the presentation, they used their critical thinking skills to play the role of pharmacists to help identify red flags while dispensing opioid medications. After having lunch with health care providers and student leaders, the participants learned more about the roles of various health providers through an interactive game.
In addition to learning more about health care careers, students experienced Health Camp as part of a team – just like providers on a health care team. They earned points throughout the day for engagement and participation, which added to the fun with a little friendly competition. The teams with the most points at the end of CHSU Health Camp received prizes and special recognition.
CHSU looks forward to hosting Sherman Thomas STEM Academy again for Health Camp next summer!