CHSU Medical Student Plans to Serve Patients with Empathy and Compassion
November 17, 2020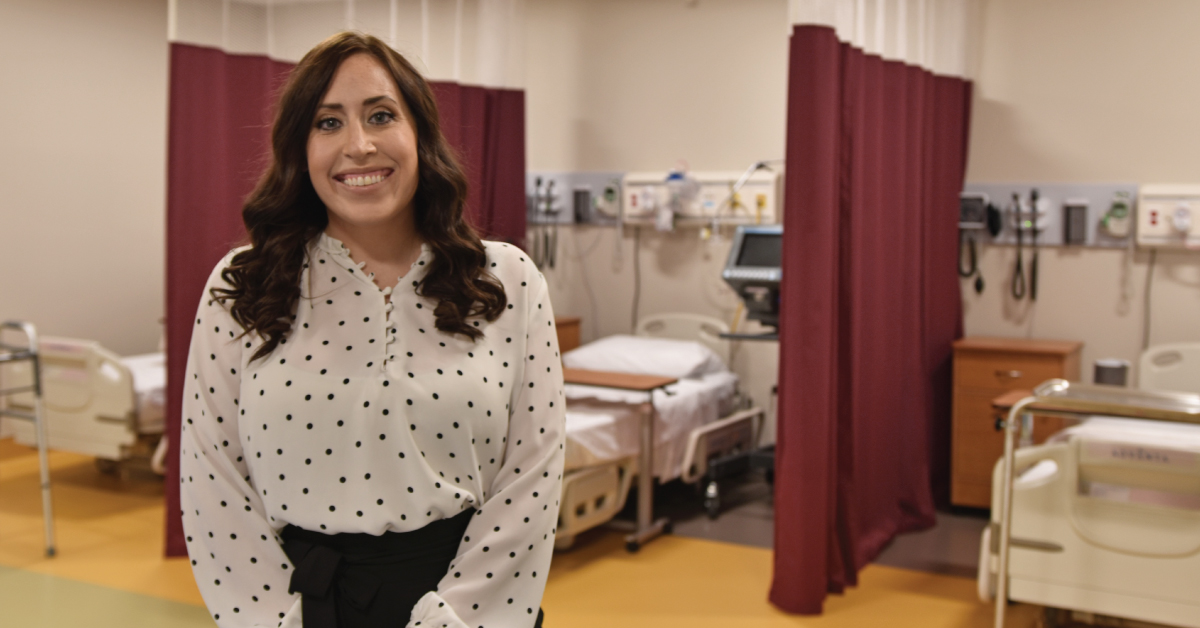 Megan Fedeli, first year medical student at the CHSU College of Osteopathic Medicine, has great appreciation for the field of medicine and the doctors that have helped her along the way. Having overcome many hardships, Megan developed the type of compassion and perspective that helps put patients at ease and builds that trust between patient and physician.
She never envisioned herself going into the health care field. Megan graduated from the University of Nevada, Reno with a bachelor's degree in mathematics. Her parents both work in the health care field, and she dabbled in health care, working at a few health care facilities and volunteering at a hospice in her hometown of San Diego. It wasn't until Megan experienced first-hand how much of an impact that physicians make in people's lives that she knew she wanted to be a part of it.
While on vacation several years ago, Megan's son fell from a second story window. He had pushed out the screen and fell, requiring emergency medical attention. As a parent she felt hopeless, but after seeing how the doctors helped her son and gave hope to her family, she knew she needed to reconsider what she wanted in a career.
She chose to become a Doctor of Osteopathic Medicine (DO) because of the holistic approach DO's take in treating patients. She personally sought out a DO when she was experiencing sciatic nerve pain during one of her pregnancies. Prior to seeing the DO, she had been on a loop of prescription after prescription that wasn't helping her pain.
"I sought treatment from a Doctor of Osteopathic Medicine who uses Osteopathic Manipulative Medicine (OMM). I was able to regain full functionality without having to worry about taking a pill every single day," said Megan. "I really enjoyed the holistic viewpoint that DO's take and that's what really pushed me towards finding a DO school when I decided to become a physician."
As a mother of four, Megan has juggled working, going to school and raising her kids with her husband, a disabled veteran. At one point she and her children were homeless, living in her car to make ends meet. This gave her a different perspective of the health care system than she had known growing up.
"Being able to not just see, but live through the disparity in the health care system and really knowing what it's like to walk inside of an office and feel like you don't belong there, or you don't deserve to be there, I think it's given me a lot of perspective, empathy, and compassion for the underserved," Megan said.
Through her medical education at CHSU, she is excited to gain the knowledge and skills to be able to help someone no matter the situation. Over her lifetime, she has spent time in the Central Valley and has great appreciation for the community. Recognizing the shortage of physicians in the Valley, she is excited to have the opportunity to help, particularly by helping the underserved in our community.
"I think as a physician, you're given a unique perspective into people's lives and I really want to make sure that I can make an impact especially on the people whose voices are not always heard," she said.
Megan is interested in pursuing a career in emergency medicine or anesthesiology after graduation and looks forward to the journey ahead of her at the CHSU College of Osteopathic Medicine in Clovis.