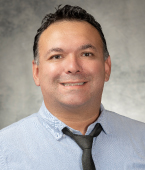 Edward Merino, PhD
Degrees:
Ph.D. in Chemistry, University of North Carolina at Chapel Hill
B.A. in Biochemistry, University of San Diego
Specialty:
Biochemistry of oxidative stress, antioxidants, skin cancer, pre-clinical drug development
Most recent publications and presentations:
Oxidative Cyclization-Induced Activation of a Phosphoinositide 3-Kinase Inhibitor for Enhanced Selectivity of Cancer Chemotherapeutics. ChemMedChem. 2019, 14(22):1933-1939.
UV cell stress induces oxidative cyclization of a protective reagent for DNA damage reduction in skin explants. Free Radic. Biol. Med. 2019, 134:133-138.