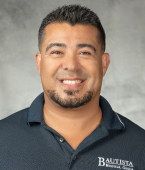 Luis G. Bautista, MD
Degrees:
M.D., New York Medical College, Valhalla, NY
J.D., California Western School of Law, San Diego, CA
B.A. in Biology, University of San Diego, CA
Specialty:
American Board of Family Medicine
Most recent teaching experience:
Lectures on primary care and military medicine for various medical, nurse practitioner, and physician assistant schools in California.
Lectures on legal topics pertinent to physicians as requested by various professional societies.
Most recent publications / presentations:
Universidad Autonoma de Guadalajara: "Heatstroke" (October 2019)
Hispanic Medical Conference: "Medical Malpractice, A Legal Overview" (May 2019)