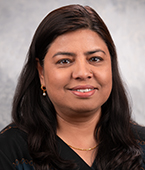 Reena Lamichhane Khadka, PhD
Degrees, Education & Certifications:
PhD in Biology (Microbiology and Molecular Biology), New Mexico State University, Las Cruces, NM
MS in Microbiology, Tribhuvan University, Kathmandu, Nepal
BS in Biology, Honors: Distinction, Tri-Chandra College, Tribhuvan University, Kathmandu, Nepal
Professional Specialties:
Microbiology (General and Medical), Immunology, Molecular Biology, Emerging Infectious Diseases
Most Recent Industry Experience:
Associate Professor of Biology, Saint Mary's College, Notre Dame, IN
Professional Affiliations & Service:
American Society for Microbiology, American Society for Parasitology
Latest Research, Publications, and Presentations:
Lamichhane-Khadka, R., Dulal, S., Cuaron, J. A., Pfeltz, R., Gupta, S. K., Wilkinson, B.J., and Gustafson, J. E. 2021. Apt (Adenine Phosphoribosyltransferase) Mutation in Laboratory-Selected Vancomycin-Intermediate Staphylococcus aureus. Antibiotics 10: 583. 2.
Spica, N., Green, M., Lown, L., Duwal, R., Fuyal, M., Giri, B., Paetkau, D., and Lamichhane-Khadka, R. 2021. Development of a microbiological paper-based analytical device to detect fecal contamination of water in resource-limited settings. Water, Air, & Soil Pollution, Springer 232(5): 164.
Lamichhane-Khadka, R., Slusser, A., Green, M., Zelmer, D.A., and Platt, T.R. 2021. Effect of Echinostoma caproni on presumptive lactic acid bacteria abundance and Salmonella enterica serovar Typhimurium colonization in the mouse gut. Journal of Parasitology 107(3): 381–387.
Chaudhary, N., Guragain, B., Rai, S., Chaudhary, N., Sachin, K. M., Lamichhane-Khadka, R., and Bhattarai, A. 2021. Alcohol-based sanitizers: An effective means for preventing the spread of contagious viral diseases including COVID-19. Tenside Surfactants Detergents 58(6):1-6.