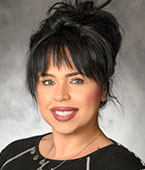 Rouby Mavyan, PhD
Director, Office of Academic Affairs and Assessment
Assistant Professor, Specialty Medicine
559-712-4156
rmavyan@chsu.edu
Degrees:
Ph.D. in Criminal Justice, Capella University
M.S. in Criminal Justice, Kaplan University
Specialty:
Criminological theories, Victimology, Diversity in Crime
Most recent teaching experience:
Adjunct Faculty of Criminology at Fresno Pacific University
Most recent publications / presentations:
Mardirossian-Mavyan R. On these mean streets…People are dying. Police & Citizen Brutality in America. 2018
Mardirossian-Mavyan R, & Esmail A. (2017).  Access of Hispanic inmates to correctional education (GED) in California and its impact on three-year recidivism rates.  Race, Class, Gender. 24 (1-2).