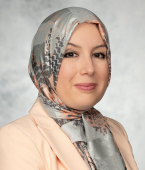 Shada Attraplsi, MD, MSCR
Degrees:
Master of Science in Clinical Research, Rush University Medical Center, Chicago, IL
Bachelor of Medicine and Surgery, the University of Tripoli (previously known as AL-Fatah University) Tripoli, Libya
Specialty:
Licensed Hospitalist, Researcher, dedicated Clinician Educator, Functional Nutritional Counselor and Environmental Toxin Counselor
Most recent teaching experience:
Preceptor for 3rd and 4th year California Health Science University (CHSU) medical students at Community Regional Medical Center.
Most recent publications / presentations:
Shada Attraplsi, Ahlim Al- Sanani, Fathia Alfakeri, Elizabeth Saunders, Marshall University Medical Center, Huntington WV.  ACP meeting, October 24, 2015.  Lisinopril induced hepatotoxicity.
Ali Raufi, Shada Attraplsi, Yehuda Lebowicz, Marshall University Medical Center. Marshall QI summit, November 13, 2015.  Better utilization of neutropenic precautions and adherence to guidelines will improve cost-effectiveness and patient convenience.
Mohamed Alsharedi, Shada Attraplsi, Ibrahim Shahoub, Mina Shenouda, Steven Francis, Aneel Chowdhary, Marshall University Medical Center, Huntington, WV.  Annual International Lung Cancer Congress (ILCC) meeting, Huntington Beach, CA, July 30, 2015.  Achieving Complete Response on Post Therapy PET Scan Might Inversely Correlate with Survival in Small Cell Lung Cancer.
Fathia Alfakeri, Shada Attraplsi, Mohammed Al-Ourani, Marshall University Medical Center, Huntington, WV.  Southern Medical Assembly, Destin Florida, October 30, 2015.  A case report of Benzocaine-induced methemoglobinemia: a life-threatening complication after a transesophageal echocardiogram.  The case report ranked first.