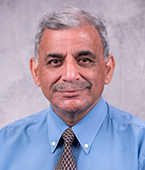 Tanveer Jilani, PhD, MPhil, MBBS
Degrees, Education & Certifications:
Ph.D in Health Sciences, Aga Khan University, Pakistan
M.Phil in Physiology, University of Karachi, Pakistan
M.B.B.S. Bachelor of Medicine & Bachelor of Surgery, Dow Medical College, University of Karachi, Pakistan
Professional Specialties:
Gross and Functional Anatomy, Physiology
Most Recent Industry Experience:
Teaching undergraduate students (Nursing, Medical & Surgical technology) in an Allied Health Sciences College at Santa Ana, CA
Latest Research, Publications, and Presentations:
Jilani T, Iqbal MP. Vitamin E and immune system. A prospective nutrient against Influenza and COVID-19 in elderly humans. LNJPC. 2021: 3(2): 90-94.
Jilani T, Khan I, Salim A, Bilwani F, Moiz B and Iqbal MP. An efficient protocol for isolation, purification, and characterization of human erythroid progenitor cells (EPCs) from peripheral blood samples of healthy adult volunteers. Pakistan Society of Hematology (PSH) conference, Aga Khan University, Karachi, Pakistan, February, 2022.