SJV-MedBridge Partnership with Local Medical Schools Answers Call to Raise Doctors for Valley Patients
October 24, 2023
With dreams to become physicians for Valley patients, community college students in the San Joaquin Valley-MedBridge program received a hands-on learning experience at the California Health Sciences University College of Osteopathic Medicine (CHSU-COM).
Thanks to Senate Bill 40 (California Medicine Scholars Program), authored by Senator Melissa Hurtado, San Joaquin Valley-MedBridge was recently launched by the UCSF School of Medicine Fresno Regional campus (UCSF Fresno) in partnership with Fresno State, community colleges in the San Joaquin Valley, California Health Sciences University, Valley Health Team Family Medicine Residency Program, California Area Health Education Center Program (CAL-AHEC), and the Central Valley Health Network.
This premedical pathway program offers extensive resources for local community college students interested in becoming physicians, including premedical workshops, advising services, guidance in transferring to a four-year university, networking opportunities, and medical experiences.
"We are trying to raise local doctors because we want them to stay here and serve our population with such a huge need throughout our Valley," said Amanda De Lima Croft, Program Coordinator and Advising Counselor, SJV-MedBridge. "It's instrumental to provide immersive experiences within the Valley so that college students are exposed to what our Valley has to offer when they start selecting medical schools or locations they want to practice in."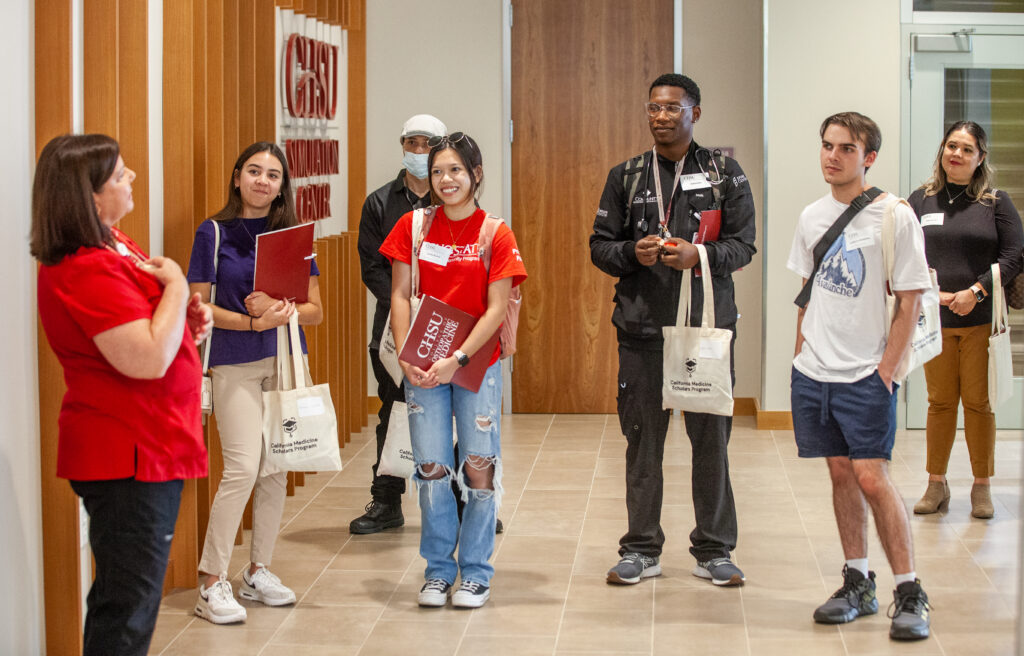 On October 5, the college students in SJV-MedBridge learned valuable medical skills through different labs at the state-of-the-art CHSU-COM Simulation Center, including performing CPR, administering breathing treatments, blood pressure checks, and holographic anatomy.
After touring the campus, the college students also learned about how to prepare and apply for medical school at CHSU-COM with another visit planned in spring 2024 to shadow medical students.
"We're excited to partner with CHSU and create a chance for college students to get hands on experience about what it might look like to be a medical student and really pursue the path to medicine," said Sydney Farnesi, Program Supervisor, SJV MedBridge. "CHSU is a great opportunity for students who want to go into medical school in Fresno or in the Valley."
Living most of her life in Fresno after moving from the Philippines, Louise Ramos is a college student in SJV-MedBridge with a life-long passion to become a physician and serve other families in the community since the passing of her grandmother.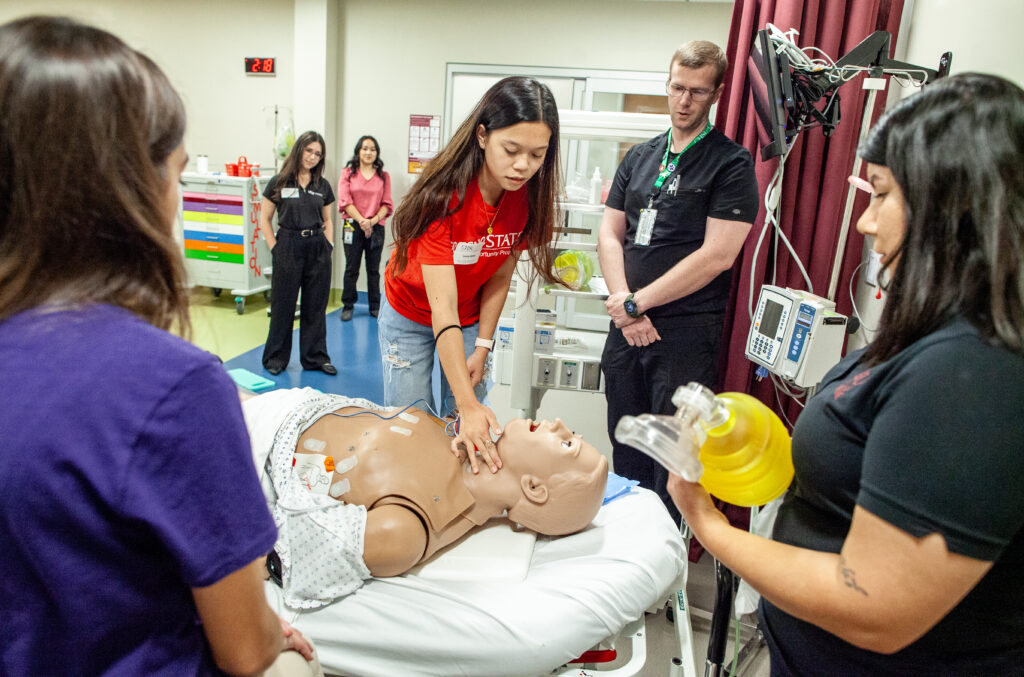 "Medicine has always been my passion and a track for me, like it's built into me, since many of my family members are nurses," said Ramos. "However, I want to be more hands on with patients as a surgeon. This experience at CHSU gave me encouragement to pursue becoming a physician one hundred percent."
Through SJV-MedBridge's partnership with neighboring four-year institutions, Ramos is currently a third-year college student majoring in Biochemistry at Fresno State after transferring from Fresno City College.
"I remember opening the email and reading that I got into the SJV-Medbridge program," said Ramos. "It felt right that medicine is my passion. It's a push forward that I'm on the right track."
SJV-MedBridge is open to all current community college students who are interested in pursuing medicine, have completed at least twelve units at a community college in the Valley, and do not have a bachelor's degree. The program is currently accepting applications on its website through December 1, 2023.