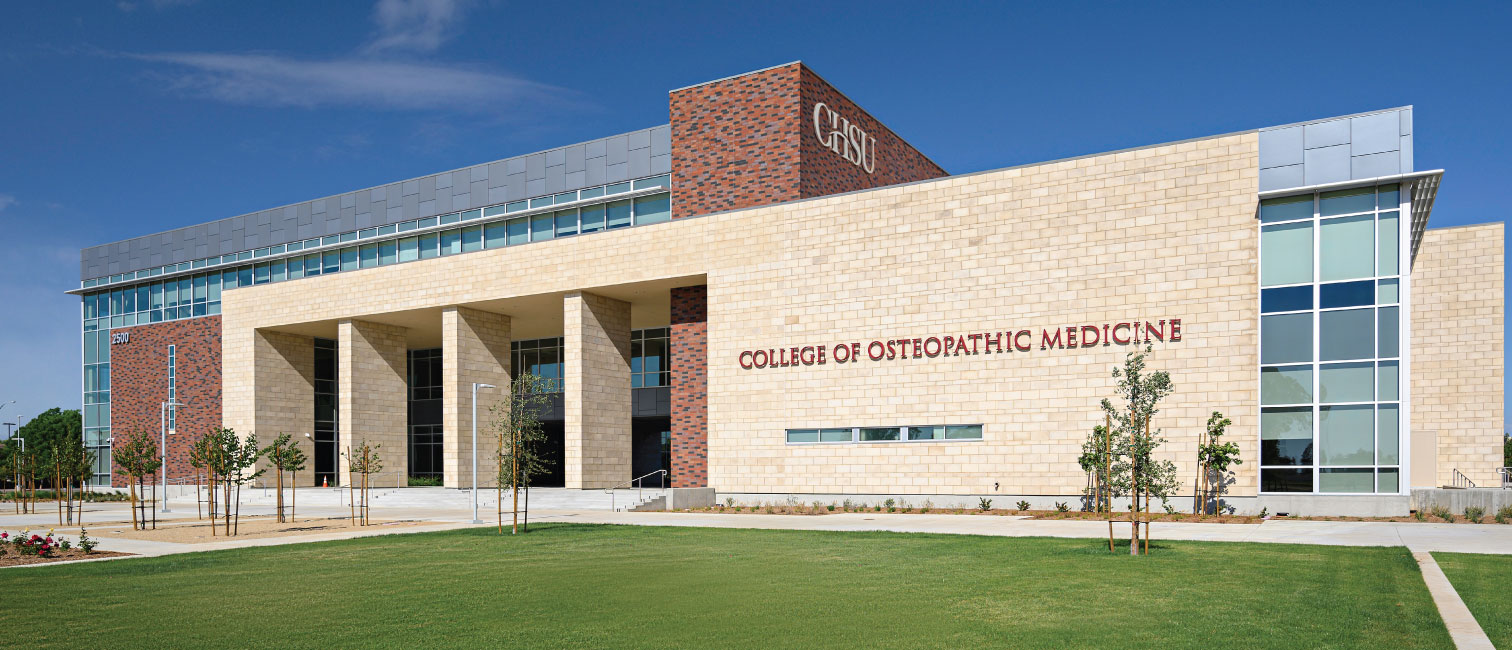 CHSU-COM
Accepted students
Congratulations on your acceptance to CHSU-COM! The information below will help you get prepared for your medical school journey.
Welcome to the CHSU College of Osteopathic Medicine Class of 2027!
We are excited to have you join us on campus in July. Please review the information below to help you prepare for the upcoming academic year.
Welcome to Campus
TOUR THE CHSU COM BUILDING
Dear Members of the CHSU-COM Class of 2027,
We are excited to have you join us! You are invited to see our virtual tour of the CHSU-COM Building. I'm so excited for you to see our classrooms, study areas, professional Teaching Kitchen, Simulation Center and more! I hope you all stay safe and healthy!
Sincerely,
John Graneto, DO
Dean, College of Osteopathic Medicine
Your Journey to DO
Check out this special message from the AACOM, the American Osteopathic Association (AOA) and the National Board of Osteopathic Medical Examiners (NBOME) welcoming you into the beginning of your medical career.
---
Important to-do's
Dates & Deadlines
July 14, 2023
Pick-Up Day (MANDATORY)
July 18-20, 2023
Orientation (MANDATORY)
7:45 am – 5:00 pm each day
July 24, 2023
Fall Semester Begins
TBD
White Coat Ceremony
Orientation
More information coming soon!
Background Check and Drug Screening
The Background Check process will be processed through Certiphi and managed through AACOMAS. AACOMAS will share reports with the school to which you plan to matriculate.
The drug screen will also be processed by Certiphi and CHSU-COM must authorize accepted students so that the drug screen processes can be initiated. This process will begin in the spring, so please be alert for more information about the drug screen.
Once a student is authorized, Certiphi will send an email to the student indicating that each of these authorizations (which are separate) has been completed.
The initial fee for the background check is a deposit. The fee will vary between individuals (e.g. if you have 10 aliases it will cost more than if you have only used one name all your life). Once the background check is complete the remainder of the deposit will be returned.
The drug screen fee pertains to one visit to Quest and the processing of one sample. If, for whatever reason, your sample turns out to be inadequate, you will have to pay for a second screen.
PLEASE NOTE: CHSU expects students to follow Federal Law with respect to drug usage (i.e. NOT the laws of their legal state of residence and NOT California law).
Immunization Requirements
All incoming students are required to submit immunization records, tuberculosis (TB) information, and verification of COVID-19 vaccination and booster prior to beginning their first semester with CHSU-COM. As role models in public health, we are proud that our students are 100% compliant with our COVID-19 vaccination policy.
Once a student is authorized, MyRecordTracker will send an email to the student to initiate the process. The student will create an account with MyRecordTracker to provide the requested documents.
Please see the Student User Guide if you need assistance with the MyRecordTracker webpage.
If you have any questions about the COVID-19 vaccination requirements, please review our Current COVID Prevention Program FAQs.
Official Transcripts
The transcripts that you submitted to AACOMAS with your application are viewed as official, so you do not need to resubmit them.
Students who had in-progress or incomplete CHSU-COM admissions requirements prior to applying will need to submit an official transcript to the COM Admissions Office, showing the successful completion of those requirements. This may include prerequisite courses or a completed Baccalaureate degree.
The CHSU-COM Office of Admissions must receive official, sealed transcripts prior to Orientation, to officially register you in the CHSU College of Osteopathic Medicine. Please request your transcripts as soon as possible after you have completed your coursework.
Any coursework that is not included in your official transcripts received at CHSU, must have a signed letter from the course instructor, indicating your successful completion of the course. This letter must be on college letterhead and include the assigned grade, and must be submitted to CHSU prior to Orientation. You will still be required to supply an official transcript as soon as one is available.
Send Official, Sealed Transcripts to:
California Health Sciences University, College of Osteopathic Medicine
Office of Admissions
2500 Alluvial Avenue
Clovis, CA 93611
(559) 712-4222
Student Health Insurance
California Health Sciences University College of Osteopathic Medicine requires all students to maintain an acceptable health insurance policy. Students must provide proof of insurance coverage each year throughout enrollment in the program. More information about enrolling in CHSU Student Insurance – as well as the waiver process if you are covered under another active policy – will be available in the late spring or early summer.
Order your "THE DEVELOPING PHYSICIAN" Course REQUIRED MATERIALS
In your The Developing Physician (TDP) course, you will learn the important skills necessary to function as a clinical physician. The following is a list of equipment that is required for this course. We have included some options for you to choose from when looking to purchase your equipment. Do not feel obligated to purchase the exact equipment that is listed here, these are merely examples to help you make a choice. If you find your equipment elsewhere, or at a better price, then feel free to purchase it from another provider.
laptop recommendations
This document outlines the minimum specifications for laptops to us at CHSU to be effective with the requirements to achieve the learning outcomes of the curriculum. This document is not intended to be a complete specification of system requirements, but rather highlight the required elements of the laptop configurations.
---
Find Your Community
Get to Know Your Fellow Students
The CHSU-COM Admissions has a private Facebook group to connect students in our incoming class, so they can get to know each other. This is a great place to informally chat with the admissions team, learn about what's going on in the Fresno/Clovis area, find roommates, or discuss housing options.
To request access to the group, please visit the CHSU College of Osteopathic Medicine Class of 2027 group and click "+ Join Group."
You will be notified when your request to join the group has been approved by a page administrator.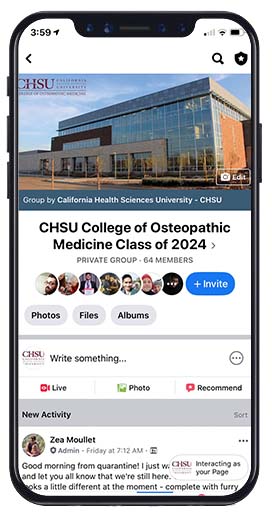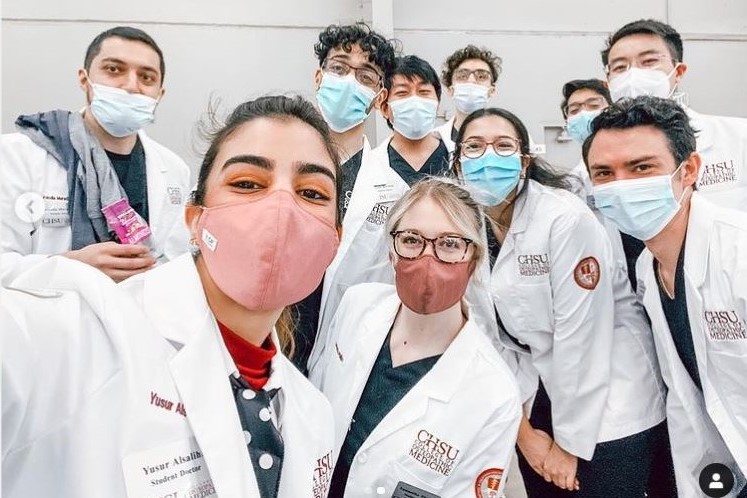 Explore STUDENT ORGANIZATIONs
Enrich your medical school education by getting involved in student organizations! CHSU-COM offers a variety of student organizations for many different specialties and more are being formed.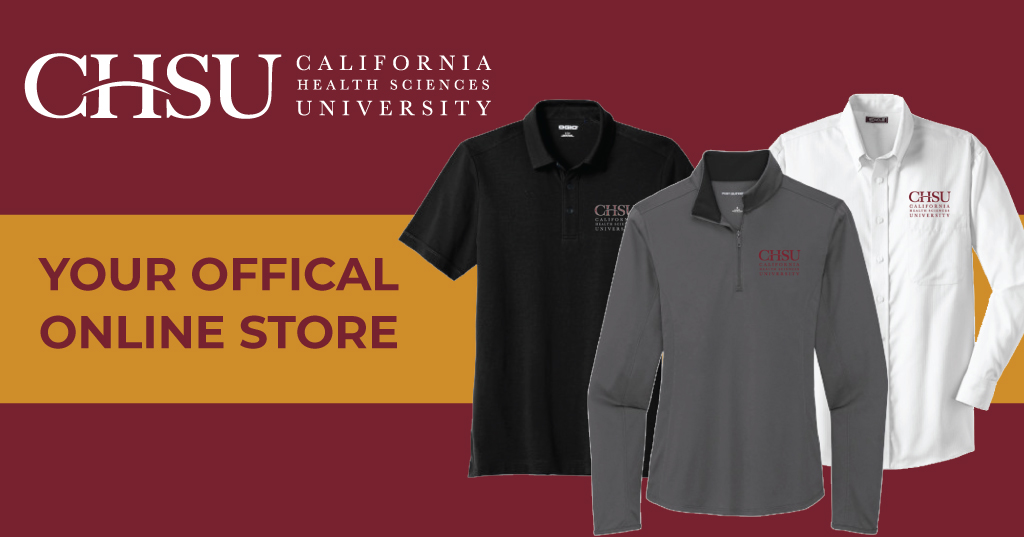 Buy your chsu apparel
Show off your school spirit by purchasing branded apparel with the CHSU or COM logo. Visit our online store!