CHSU-COM Hosts Second Annual Residency Programs Fair
October 24, 2022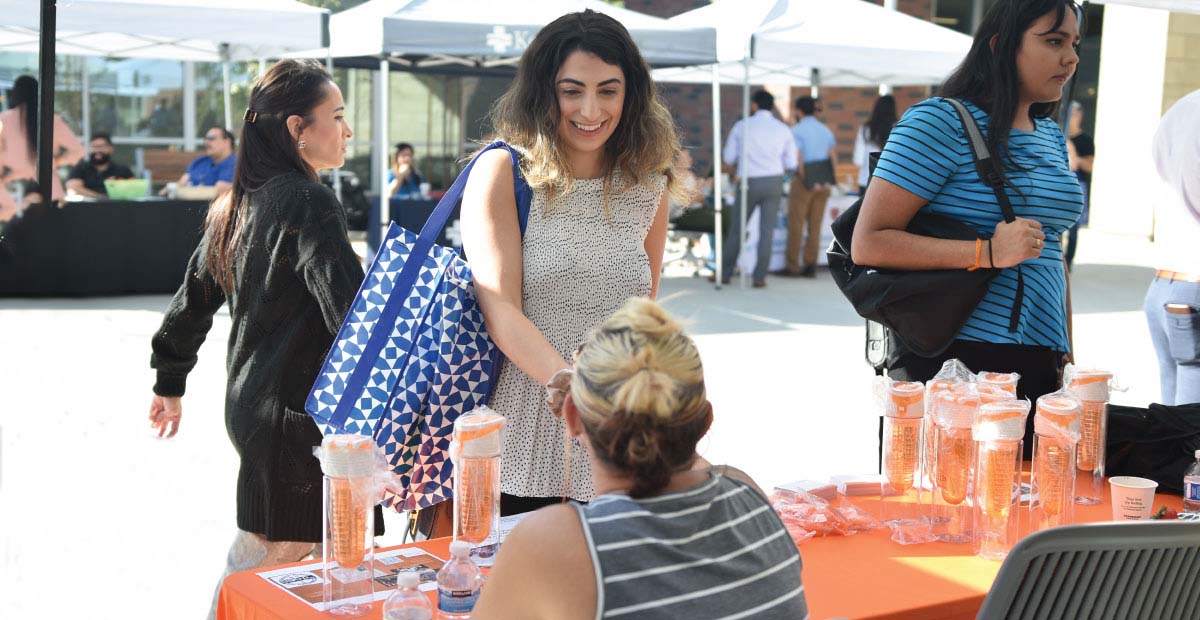 California Health Sciences University College of Osteopathic Medicine (CHSU-COM) held its 2nd Annual Residency Programs Fair this October. A total of 17 Graduate Medical Education (GME) programs from the Central Valley showcased all their programs had to offer to potential residents. CHSU's medical students received advice on how to build a competitive residency application and were provided the opportunity to network with various programs from Family medicine, Internal medicine, Pediatrics, Psychiatry, General Surgery, Neurology, and more!
More than 45 GME representatives met with first-, second- and third-year medical students, and shared their programs' structure/curriculum, the residency application process, core values, residency life, and more.
Students, residency program directors, residents, and officials alike expressed their gratefulness for this opportunity to meet.
"It was a lovely experience. The residents and physicians were very welcoming and as a first year student, it was amazing to see how open programs were to giving advice and providing very helpful insight into the application process and how to prepare for residency," said Hannah Oteng-Quarshie, OMS-I.
"I believe this a great opportunity for our students to network and practice researching to find a residency. I think this can become a central activity for CHSU and the Residency Programs in Central Valley," said Dr. Alvaro Pinto, Assistant Professor of Biomedical Education.
Next year, the first cohort of CHSU medical students will begin applying to residency programs within the Central Valley and the state, and around the country,
"After they graduate with their Doctor of Osteopathic Medicine degrees in 2024, our inaugural medical students at CHSU will begin their residencies and we hope most of them match in the Central Valley to increase their chances of practicing here in the future," stated John Graneto, DO, Dean for the CHSU College of Osteopathic Medicine.
Thank you to the following residency programs for attending this event:
Adventist Health Hanford – Family Medicine Program
Adventist Health Tulare – Family Medicine Program
Kaweah Health Medical Center – Emergency Medicine Program
Kern Medical Center  – Emergency Medicine Program
Saint Agnes Medical Center – Emergency Medicine Program
Saint Agnes Medical Center – Internal Medicine Program
Saint Joseph's Medical Center Stockton – Internal Medicine
Saint Joseph's Medical Center Stockton – Psychiatry Program
Saint Joseph's Medical Center Stockton – Emergency Medicine Program
Saint Joseph's Medical Center Stockton – Neurology Program
Saint Joseph's Medical Center Stockton – Transitional Year Program
Sierra View Medical Center – Internal Medicine Program
Sutter Health Roseville – Emergency Medicine Program
Sutter Health Roseville – Surgery Program
Sutter Health Roseville – Internal Medicine Program
Valley Children's Healthcare – Pediatrics Program
Valley Consortium – Family Medicine Program
Valley Health Team Fresno – Family Medicine Program