CHSU Student Receives Prestigious Arnstein Minority Student Scholarship
October 26, 2022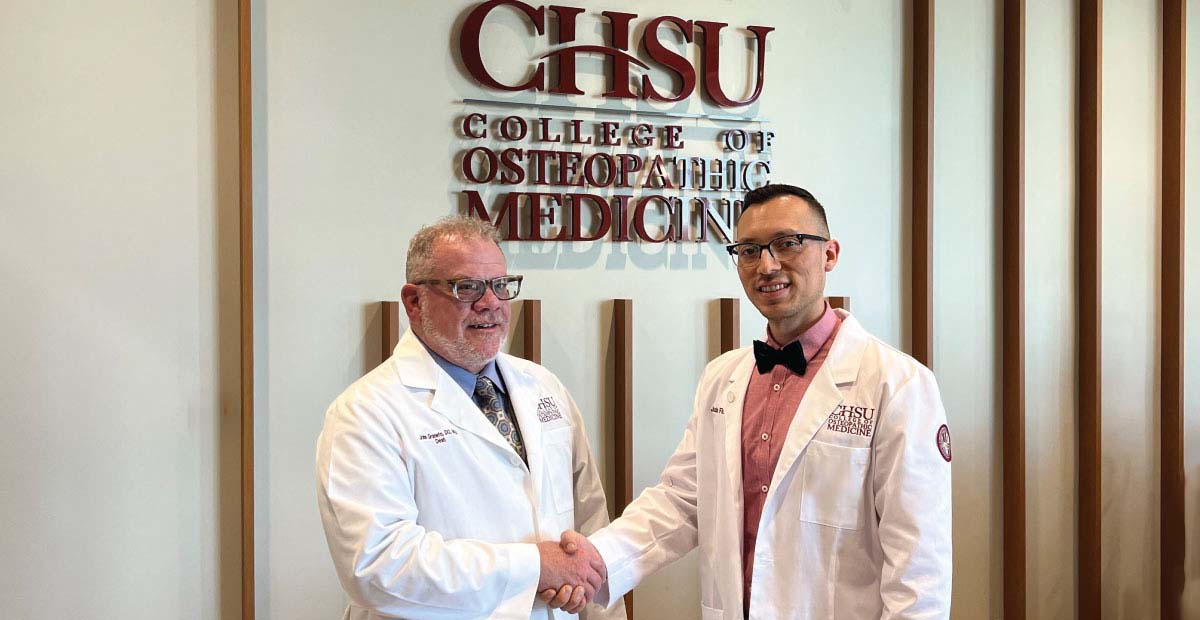 This week, the American Association of Colleges of Osteopathic Medicine (AACOM) announced the recipients of the 2022 Sherry R. Arnstein Underrepresented Minority Scholarship. Justin Flores, first-year medical student at the California Health Sciences University College of Osteopathic Medicine, was named as one of the six exceptional student doctors recognized for their dedication and commitment in osteopathic medical education.
"I'm so proud of Justin for this significant honor," stated Dr. John Graneto, Dean for the CHSU College of Osteopathic Medicine. "He is a Central Valley native who fits our mission and represents his community well. He and students like him are why CHSU was founded."
This year's recipients are:
Courtney Eiley, Lake Erie College of Osteopathic Medicine
Kiyana Ellison, University of the Incarnate Word School of Osteopathic Medicine
Justin Flores, California Health Sciences University College of Osteopathic Medicine
Carrie Ford, Lincoln Memorial University – DeBusk College of Osteopathic Medicine
Alexis Marquez, Kansas City University College of Osteopathic Medicine
Elianna Sanchez, New York Institute of Technology College of Osteopathic Medicine
"It is truly an honor and a privilege to be named a Sherry R. Arnstein Minority Student Scholar," said Justin Flores. "This generous scholarship greatly assists my ability to support myself, my wife and daughter as I continue my life-long dream of becoming an osteopathic physician. From my past experiences as a Physician Assistant working in a rural clinic, I saw first-hand the major gaps in healthcare that many minorities face, especially those who share my Mexican roots. As a future physician, I aspire to lessen some of the medical burdens in my community and communities alike by offering accessible, quality and culturally sensitive healthcare."
The Sherry R. Arnstein Minority Student Scholarship was established in honor of former AACOM Executive Director Sherry R. Arnstein's legacy and her lifelong dedication to public service, social equity and justice. The scholarship was endowed by the Arnstein family to help at least one current and one new underrepresented minority osteopathic medical student fund their education.
After the initial endowment AACOM continued funding for the program, which has grown steadily since its inaugural grants were awarded; each year receiving more applications and awarding more scholarships. Since 2012, AACOM has more than $200,000 to 57 recipients.
More information is available in AACOM's announcement on their website.