CHSU-COM Publishes Results of "Pre-Med Bootcamp" a Premedical Rural Enrichment Program
September 21, 2022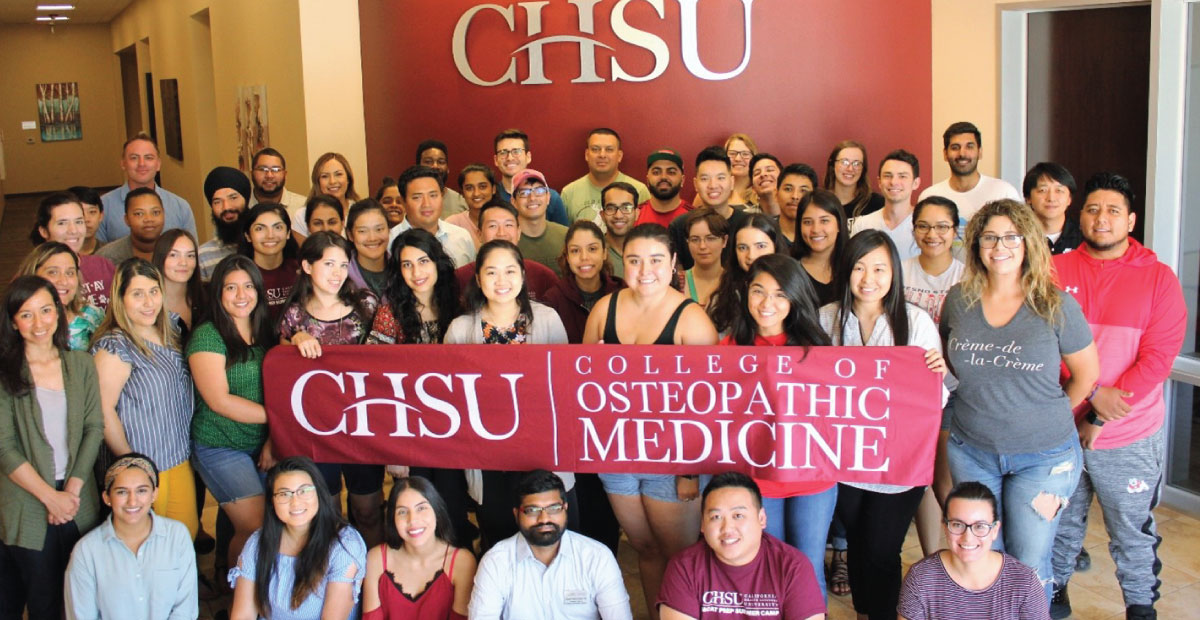 From its inception, the Pre-Med Bootcamps at California Health Sciences University's College of Osteopathic Medicine (CHSU-COM) have impacted hundreds of medical school hopefuls and provided a means for high school and undergraduate students to gain exposure to medical school curriculum.
CHSU-COM faculty and partnering medical students evaluated the efficacy of the initial premedical rural enrichment program (PREP), now called Pre-Med Bootcamp, that was offered in summer of 2019 with 75 Valley pre-med students participating. The results were recently published in the AOA Journal of Osteopathic Medicine.
Based on the pre- and post-survey results completed by 95% of participants, the data supports the program's effectiveness of positively impacting student MCAT scores, acceptance into medical school, and their understanding of cultural competency as a tool to build strong relationships with a diverse patient population.
During the Bootcamp, students participated in several sessions on MCAT preparation and when reporting back their MCAT scores, the average reported score was 504, which is slightly higher than the mean of all MCAT test-takers. Nearly 51% of the initial bootcamp's participants reported their MCAT scores to CHSU-COM for this evaluation.
Of the 27 participants who reported their acceptance data, 59.2% were admitted to osteopathic medical schools. Eleven of those students (14.7%) matriculated at CHSU-COM, providing further evidence of the Bootcamp's success to encourage local students to pursue medical school here at home.
The study also showed an increase in student desire to practice osteopathic medicine in the Central Valley's rural or underserved areas, which speaks to the potential of continuing to use this Bootcamp as a pipeline for local premedical students to gain exposure to and make themselves more competitive for medical school.
These Bootcamps were originally started by Dr. Samuel Kadavakollu, Chair of Biomedical Education, who has been helping students prepare for the MCAT since 2012. Dr. Kadavakollu also is a faculty advisor of Valley Mentors, a CHSU-COM student organization that visits local high schools to encourage students to pursue careers in osteopathic medicine and medical field in general.
"Some students in the Central Valley don't have the financial means to adequately prepare for the MCAT exams, so we got this idea to create MCAT bootcamps so that we can increase the amount of local pre-medical students and help these students prepare for the MCAT and medical school in general," said Dr. Kadavakollu.
Since this first bootcamp in 2019, CHSU-COM has hosted four other bootcamps in both virtual and in-person formats. A special thank you to the following coauthors for their contributions to the publication of this study. Mini grants awarded from the Central Valley Higher Education Consortium have helped fund these programs in part.
Samuel Kadavakollu, PhD, MSc, Chair of Biomedical Education
Krista S. Lund, DO, Assistant Professor of Osteopathic Principles and Practices
Mahboob Qureshi, MD, MPH, PhD, Associate Dean, Academic Affairs and Assessment
John W. Graneto, DO, MEd, FACOP, FACOEP-dist, FNAOME, Dean of the College of Osteopathic Medicine
Varsha Swamy, OMS-III
William D. Kim, OMS-III
Ronald A. Llenado, OMS-III
Taylor F. Nunes, OMS-III