Third-Year Medical Student Awarded Osteopathic Cranial Academy Scholarship
September 24, 2022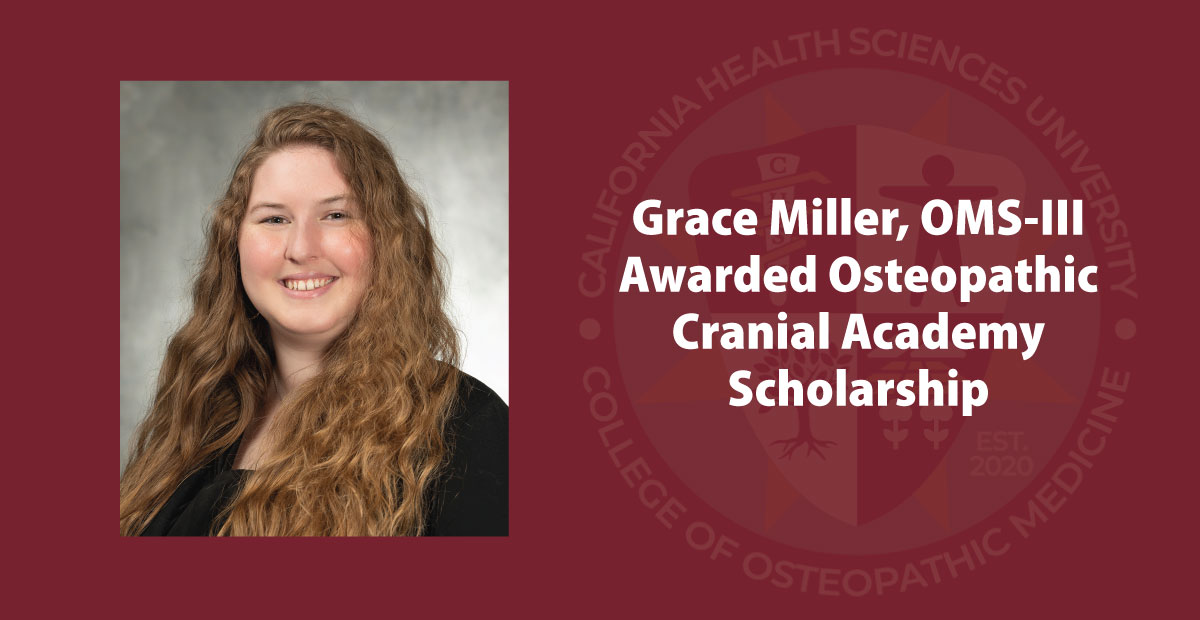 Grace Miller, third year medical student, was awarded an Osteopathic Cranial Academy (OCA) Scholarship to attend the Osteopathic Cranial Academy's "Introductory Cranial Course." Miller is the inaugural CHSU-COM Osteopathic Principles and Practices (OPP) Scholar.
This cranial course is both online and in-pers and occurs this fall. A focus of this OCA course is hand-over-hand training, with a 1:4 faculty to student ratio at the San Francisco campus.
Osteopathic Cranial Manipulative Medicine (OCMM) is a principle within Osteopathic Manipulative Medicine (OMM) that studies the anatomy and physiology of the cranium and its inter-relationship with the body as a whole. It requires more advanced knowledge and palpatory skills due to the subtlety of movements. It is an impactful technique that Miller has a personal experience with.
"As a child, I was treated with craniosacral therapy for a breathing problem that resulted from a difficult delivery," said Miller.
Craniosacral therapy, a mostly non-physician practiced off-shoot of Osteopathic Cranial Manipulative Medicine, uses a gentle touch to examine membranes and movement of the fluids in and around the central nervous system. This gentle manipulation can relieve tension in the central nervous system, potentially eliminating pain and boosting immunity.
Miller hopes to use the knowledge she gleans from this course to leave an impact on the future of the CHSU-COM OPP Scholar Program.
"Taking this course now will provide me with the foundation I need to develop this skill," said Miller. "I hope to be able to inspire interest in OCMM through my role as a CHSU-COM OPP Scholar."
Miller joins the rest of the OPP Department faculty who are all trained in this modality.
Congratulations to Student Doctor Miller for earning this scholarship and learning these highly specialized skills that will help future OPP Scholars!