FMMS and CHSU Host Addiction Medicine CME
September 5, 2023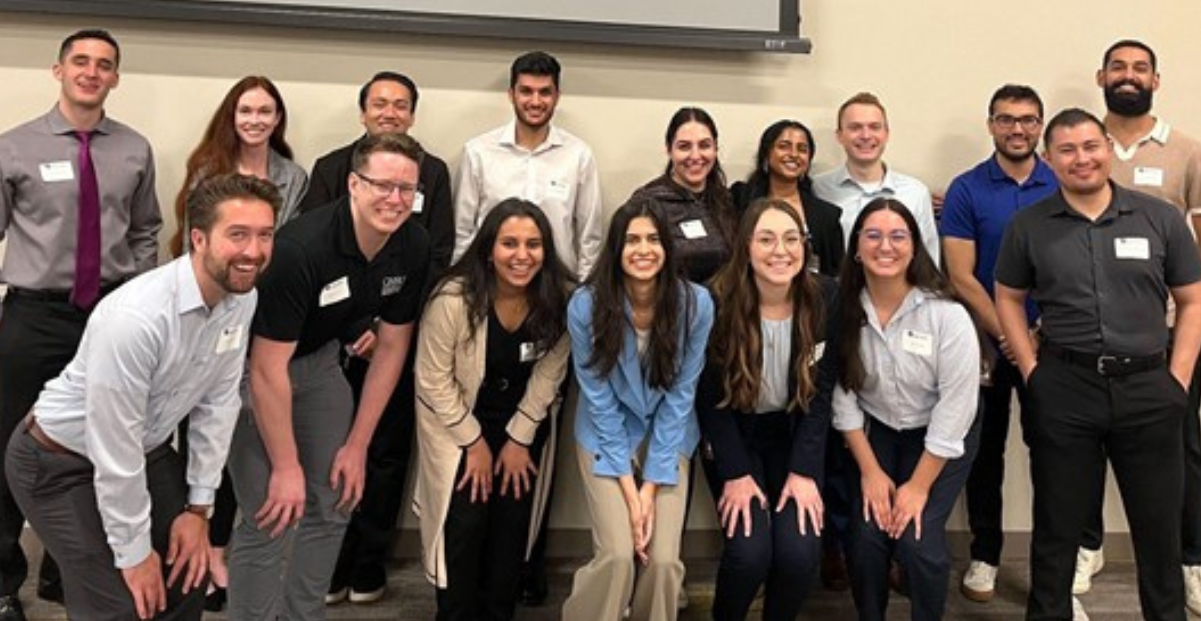 By Fatima Yusuf, CHSU-COM OMS-II student
On August 26, 2023, the Fresno Madera Medical Society (FMMS) and the California Health Sciences University College of Osteopathic Medicine (CHSU-COM) organized a Continuing Medical Education (CME) event on Addiction Medicine at the CHSU-COM campus. The event was hosted in collaboration with several local organizations, including the Central Valley Opioid Safety Coalition, California Bridge, Community Regional Medical Center (CRMC), and the University of California San Francisco (UCSF) at Fresno. Over 200 prescribers attended the hybrid event (in-person and virtual).
The event provided a comprehensive overview of Medication Assisted Treatment (MAT) for Opioid Use Disorder (OUD) and the use of naloxone in managing opioid overdoses. The event brought together experts in the field to discuss best practices, alternative approaches to opioids, motivational interviewing techniques, and the role of substance use navigators.
Attendees gained a deep understanding of OUD, opioid overdose, and practical strategies for implementing MAT and naloxone in clinical practice. The event provided licensed physicians with CME credits related to identifying, treating, and managing patients with opioid or other substance use disorders that will count towards the new training requirement to obtain or renew a Drug Enforcement Administration (DEA) registration.
Dr. Rais Vohra, UCSF Professor of Clinical Emergency Medicine and Clinical Pharmacy; Interim Health Officer, Fresno County Department of Public Health; and Medical Director, Fresno Madera Division of the California Poison Control System, started off the event with an overview of OUD and MAT. This was followed by a review of non-opioid analgesics by Dr. Francisco Ibarra, CHSU-COM Adjunct Assistant Professor, CHSU-COM's Overdose Prevention Task Force (OPTF) Faculty Advisor, and CRMC Emergency Medicine Clinical Pharmacist, and a lively panel including local experts.
The panel included Dr. John Zweifler, Family Medicine Physician and Medical Director, Central Valley Medical Providers/MedPRO); Flindt Andersen, President and Founder of Parents and Addicts in Need; Dr. Shoaib Khan, Family Medicine Physician, Addiction Medicine Physician, and UCSF Fresno Assistant Clinical Professor of Family Medicine; and Michael Prichard, Owner of Covenant Training and Consulting and Staff Analyst for the Fresno County Department of Behavioral Health.
Following a quick break, the event resumed with a panel including local Substance Use Navigators, Joseph Pool from Clovis Community Medical Center and Stephanie Garcia-Martinez from Community Regional Medical Center; and several patients in recovery, Matt Martin, Tony Hoffman, and Silvia Baltazar Raiz, who shared how they connect patients with recovery programs and their ups and downs of recovery, respectively.
The event concluded with an overview of motivational interviewing techniques led by Dr. Jonathan Terry, CHSU-COM Interim Assistant Dean for Community Clinical Education, CHSU-COM Interim Chair of Specialty Medicine, and Psychiatrist.
Several exhibitors attended the event to discuss their services, including:
CHSU's Overdose Prevention Task Force
California Bridge Substance Use Navigators
First Steps Recovery
San Joaquin Valley Free Medical Clinic and Needle Exchange
Muir Wood Adolescent and Family Services
MyTime Recovery
New Perceptions North Drug and Alcohol Treatment
Parents and Addicts in Need
California Health Collaborative – Perinatal Substance Use Disorder Taskforce
Sierra Meadows Behavioral Health
Total Life Change – Fresno
The event was organized by Stacy Woods, Executive Director at FMMS); Dr. Rais Vohra; Dr. Francisco Ibarra; and Brooke Crosswhite, CHSU-COM OMS-III and former chair of CHSU-COM's OPTF, in partnership with CHSU-COM's OPTF; a program deployed by the national Student Osteopathic Medical Association (SOMA) to create campus-tailored action plans to prevent overdose-related deaths and facilitate naloxone distribution/education.
Since its establishment in October 2022, CHSU-COM's OPTF has provided several on-campus naloxone trainings, educated high school students on how to identify, treat, and prevent opioid overdoses, facilitated discussions between addiction medicine experts and students, and incorporated opioid overdose prevention strategies into the school's curriculum.
OPTF members were present at the event to learn more about addiction medicine and ensure the event ran smoothly.
Current OPTF chair, Fatima Yusuf, CHSU-COM OMS-II student, commented, "I enjoyed learning about the different strategies for treating substance use disorders, including utilizing substance use navigators, and incorporating medication-assisted treatments. I'm interested in specializing in Addiction Medicine and firmly believe that effectively and compassionately treating patients with substance use disorders will require a deep understanding of the systemic issues contributing to the opioid epidemic and supporting initiatives like this CME that educate the greater medical community about overdose prevention."
OPTF member Courtney Hua, CHSU-COM OMS-II student, added, "From the Addition Medicine Updates event, I learned that conversations regarding substance abuse should commence earlier in adolescence than I previously believed. Because of my interest in Pediatrics, I recognize the responsibility I bear to stay thoroughly informed, enabling me to support and guide my future patients to the best of my capabilities. I also extend my gratitude to the Fresno Madera Medical Society and Dr. Ibarra for providing medical students the opportunity to gain insights from experts on Medication Assisted Treatment (MAT) for Opioid Use Disorder (OUD) and motivational interviewing techniques."
Brooke Crosswhite, CHSU-COM OMS-III student, concluded, "I learned that substance use disorder is a chronic, neurological condition deserving of our attention in the same way that we think of diabetes or heart disease. I support overdose prevention because everyone deserves access to safe, equitable care without fear of stigma or dismissal by healthcare professionals."
Additional event support was provided by Jory McKune, CHSU-COM Manager, Business Affairs and Administration.
CHSU-COM and OPTF plan on organizing more events like this one in the future.
CHSU-COM OPTF Members in photo:
Nina Aghakhanim, second-year medical student
Likitha Aradhyla, second-year medical student
Haley Bennett, second-year medical student
Joshua Carter, second-year medical student
Brooke Crosswhite, third-year medical student
Austin Dean, third-year medical student
Shriya Deshpande, second-year medical student
Cullen Gaffy, second-year medical student
Dominic Guilani, third-year medical student
Bardya Haghighat, second-year medical student
Sara Jhanjar, second-year medical student
Ranvir Johal, second-year medical student
Krishan Joshi, second-year medical student
Robert Palacios, second-year medical student
Akshay Sharma, second-year medical student
Fatima Yusuf, second-year medical student