Special Message from Dr. John Graneto, Dean for Proposed College of Osteopathic Medicine
July 19, 2018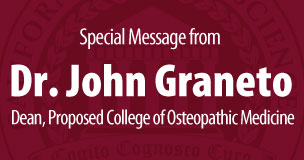 Dear Colleagues,
I am excited to announce that two key leadership positions for the CHSU proposed College of Osteopathic Medicine have been hired and are already hard at work:  Randy Culbertson, DO, MBA, as Associate Dean for Graduate Medical Education and Anne VanGarsse, MD, as Associate Dean for Clinical Affairs, Community Engagement and Population Health. Both physician leaders come with years of expertise in their respective fields.  Dr. Culbertson trained at the University of Medicine and Biosciences in Kansas City, Missouri and Dr. VanGarsse graduated from St. Louis University in St. Louis, Missouri.
| | |
| --- | --- |
| | |
| Randy Culbertson, DO, MBA | Anne VanGarsse, MD |
"The mission of CHSU is what attracted me to move my family to Fresno.  I look forward to helping improve the health outcomes of the valley." says Dr. VanGarsse. Dr. Culbertson adds "I am excited join with CHSU and work with many area hospitals to promote new residency positions.  We know those who go to medical school and do their residency in one location will very likely stay in the area to practice.  With the shortage of physicians in the valley, a partnership between CHSU and area health systems can secure a much healthier outlook for the future in terms of access to healthcare."
The momentum in hiring key positions comes on the heels of the exciting groundbreaking event for our new campus held in May. View the highlights of our Groundbreaking Ceremony below.

Please join me in congratulating Drs. Culbertson and VanGarsse on continuing to lead CHSU and our proposed College of Osteopathic Medicine towards becoming fully accredited.
Sincerely,

John W. Graneto, D.O., M.Ed., FACEP, FAAP
Dean, proposed College of Osteopathic Medicine
The proposed CHSU College of Osteopathic Medicine (COM) can not solicit nor accept applications for students unless pre-accreditation is achieved. The COM is seeking accreditation from the American Osteopathic Association's Commission on Osteopathic College Accreditation (COCA) and uses the term "proposed " until successful in achieving the next step from COCA: Pre-Accreditation.