CHSU Medical Students Demonstrate Patient Care Skills to High School Students
October 18, 2021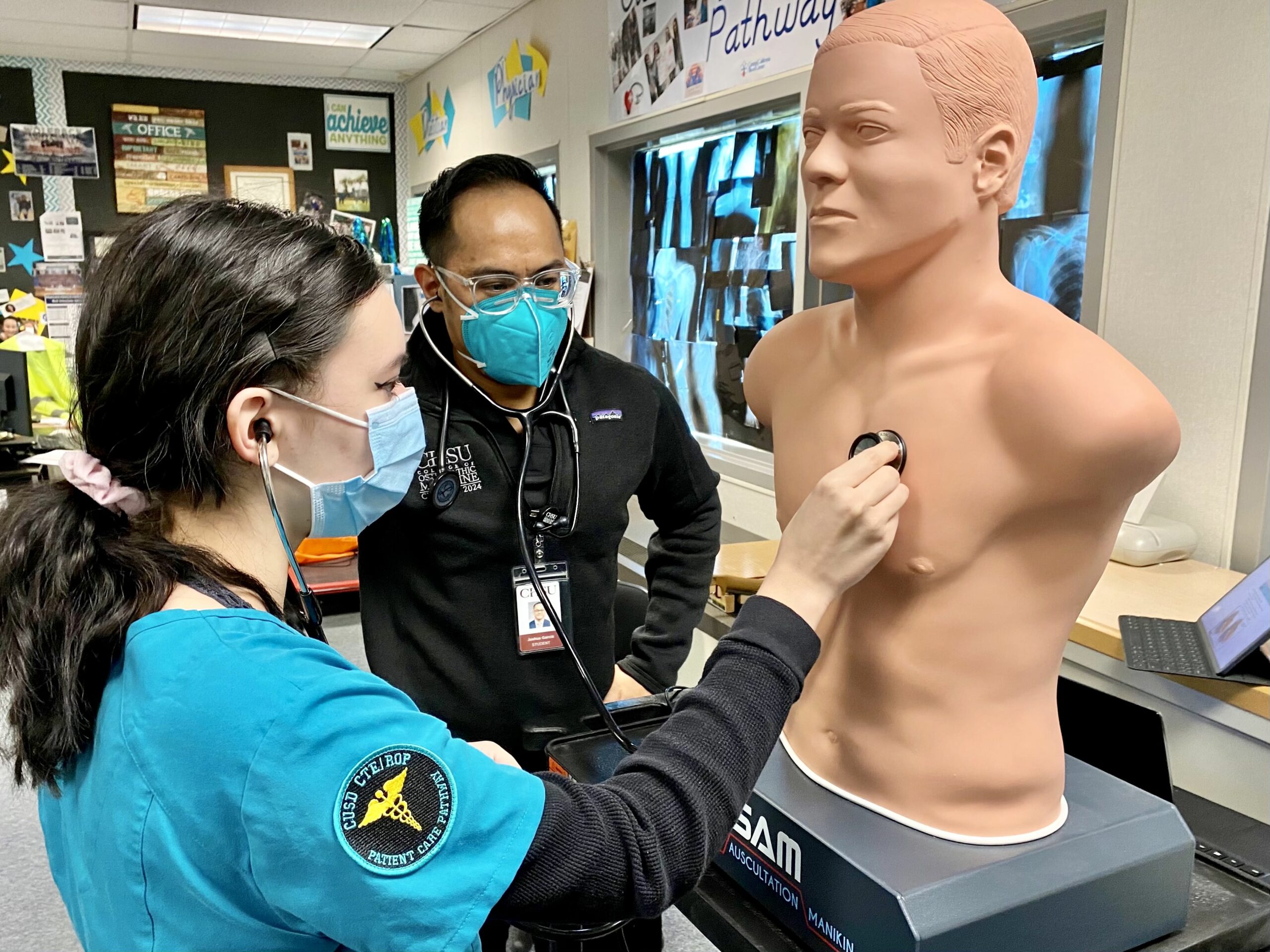 Second year CHSU-COM medical students from the student organization, Valley Mentors, visited Clovis East High School last week to host a Medical Skills Day event. The medical students demonstrated basic patient care skills for the high school juniors and seniors.
These high school students are a part of Clovis Unified School District's Patient Care Pathway Program, a pathway of the Career Technical Education (CTE)/Regional Occupational Program (ROP). Through this program, high school students with interests in healthcare, agriculture, technology, and other high demand industries are prepared to pursue the post-secondary path of their choice – from entry-level positions to industry certification to university admission.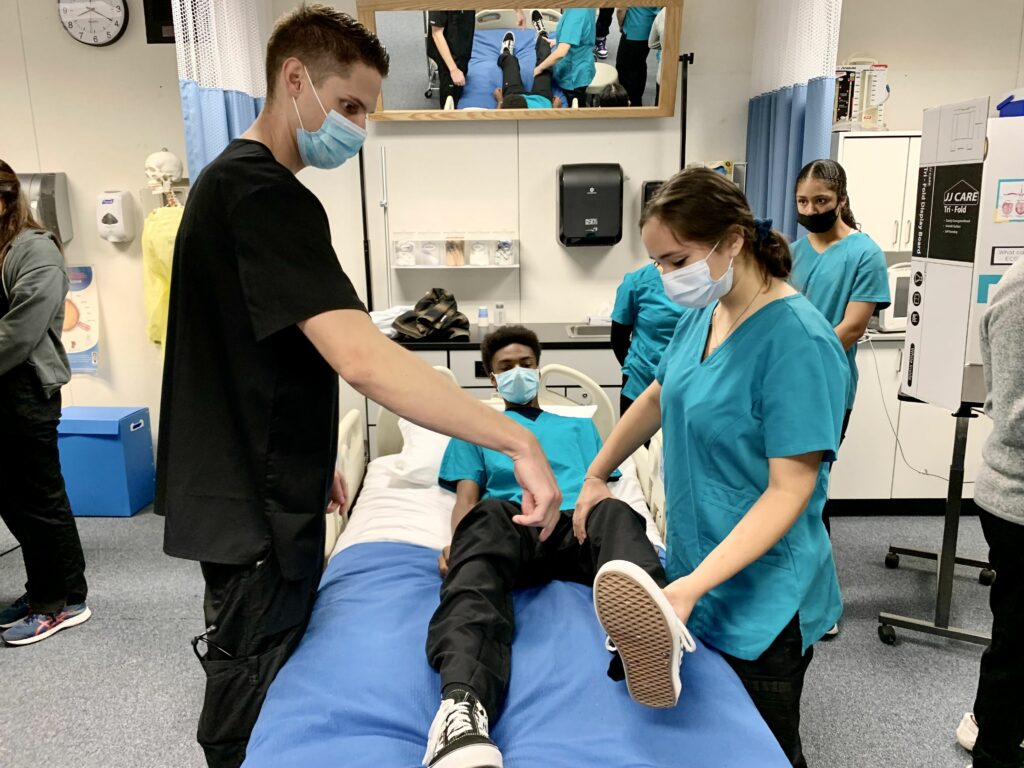 At the Medical Skills Day event, these high school students rotated through six stations for hands-on experiences guided by CHSU-COM medical students, including taking vitals; examining ears and eyes; auscultation of heart and lungs; administering an EKG; learning about neurology; and examining extremities.
Each station involved the use of high-tech equipment to make the experience more realistic and informative, including a 12-Lead EKG machine, SAM (Student Auscultation Manikin), movable joint models, and eye and ear models with customizable conditions for the students to visualize using otoscopes and ophthalmoscopes. The high school students participated in hands-on experiences for over ten unique medical skills, like taking blood pressures, testing for knee injuries, and conducting a cerebellar exam.
The overwhelming majority of the high school students rated all six stations 5 out of 5 in effectiveness and engagement when asked for their feedback after the event. They also expressed interest and excitement for one-on-one mentorship with CHSU medical students in the future.
Our CHSU student doctors recognized that educational outreach to local K-12 students has great potential to address the physician shortage in this medically underserved area. That's why Valley Mentors, a CHSU-COM student-led organization, strives to be active in the K-12 educational community.
"By personally connecting with younger students in the Central Valley, CHSU-COM students hope to give them the inspiration, support, and guidance they need to pursue higher education, especially medicine," said Varsha Swamy, OMS-II student and president of Valley Mentors.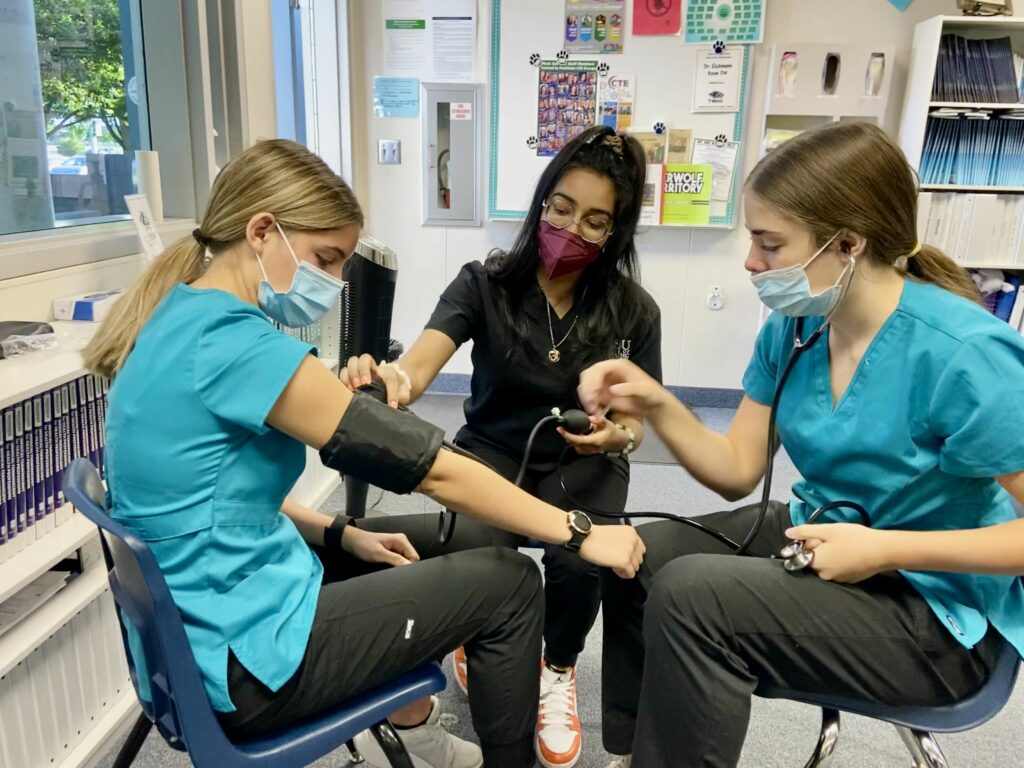 A special thank you to Dr. Kelly Eichmann, for allowing CHSU-COM students to work with the CUSD Patient Care Pathway Program, and thank you to the following CHSU students and staff for helping run this event:
Ralph Herrera, BA, EMT-P, Simulation Operations Specialist and Simulation Center Advisor of Valley Mentors
Samuel Kadavakollu, PhD, MSc, Interim Department Chair, Director of MCAT & Preparatory Programs, and Faculty Advisor of Valley Mentors
Varsha Swamy, OMS-II, President of Valley Mentors
John Tawfik, OMS-II, Vice-President of Valley Mentors
Briana Martinez, OMS-II, Secretary of Valley Mentors
Sushil Talreja, OMS-II, Treasurer of Valley Mentors
Bibi Patel, OMS-II
Carter Yang, OMS-II
Emaan Baqai, OMS-II
Joshua Garcia, OMS-II
Rahil Khasgiwale, OMS-II
Rosie Kumar, OMS-II
Saumya Shah, OMS-II
Seaver Stoll, OMS-II
William Kim, OMS-II
If you are interested in learning more about CHSU-COM's Valley Mentors student organization, contact Varsha Swamy at swamy2542@chsu.edu.