Ready to Apply to Medical School?
March 26, 2019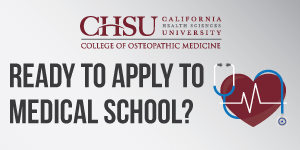 CHSU College of Osteopathic Medicine invites all aspiring physicians to join us for a free, informational evening to learn more about medical school admissions.
At this session, you will:
• Learn about our admissions process
• Find out how to apply on AACOMAS
• Meet the Dean and faculty
• Have the opportunity to take part in a Q & A session
• Learn about our technology enhanced, active-learning curriculum
This information night will take place on Wednesday, May 1, 2019 from 5-7pm at the California Health Sciences University campus. Light refreshments will be served.
Kindly respond to rsvp@chsu.edu to reserve your spot.